Yoga Retreat in Yelapa, Mexico
Meditation – Hiking – Beaching
Future dates to be announced

$1,350
Theme of this Retreat: Slowing down and Being
Where is Yelapa, Mexico and why would I want to go there?
On this Yelapa Yoga Retreat we offer yoga, meditation, and much more for every body, an affordable, wonderful opportunity to relax, renew, and rejuvenate. Yelapa is a delightful Mexican fishing village, located on a sleepy little bay just south of Puerto Vallarta. Since there are no roads to Yelapa (one of the things we love most about the town!), we take a 45 minute boat ride from Puerto Vallarta to the village. As there are no roads in Yelapa, there are no cars, less noise, less pollution and less stress. The donkeys used for transport make their own noise and pollution, but we'll manage! Temperatures in January: refreshing 60-65 at night, 75- 80 in the day. Note: This is the dry season, so normally lots of sun. The food is fresh and delicious, including local fish, chicken, enchiladas, tortillas, ceviche, beans, avocado, pies, fruit (papaya, banana, pineapple, melon, etc.). Fresh fruit beverages. Yum!
"Thank you for all that you did to make our week in Yelapa magical. I had a great time and it truly changed my life for the better."
Jennifer, Seattle 2015 Yelapa Retreat attendee
Upon arrival
We hike up (184 steps — great for free bare footed reflexology session!) to our home for the week, Casa Milagros (House of Miracles). Located on a hill above town, we enjoy an incredible view of the bay, sometimes spotting whales while we dine on the patio, or as we stretch with our roof top yoga.
Note: If 5 star luxury and big rooms are your craving, we may not be for you, and most of the rooms have shared bath. But we offer great food, personalized service, compassionate teachings, conscious and healthy travel, clean accommodations,and magical surroundings with incredible views.
Yoga on the roof patio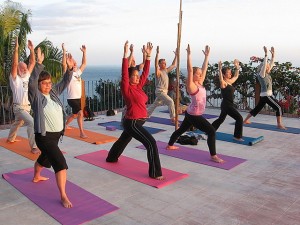 Overlooking the bay and village, accompanied by the rising or setting sun. We generally do sunrise and sunset yoga, and various profound teachings, meditations, processes and blessings. We will have plenty of activities scheduled, yet keeping things as flexible and open as possible to allow people to create their own experience, with free time to relax, swim or snorkel every day, roam the village, hike the river valley, play in waterfalls, sip from coconuts, or drink fresh fruit juices on the beach. There are extra options available for a very reasonable fee, including massage, whale watching, fishing, snorkeling and other boat trips, island visits, parasailing, etc. Note: Everything is optional, but we encourage you to attend as many of the yoga and oneness classes to help create a sacred energy for the group.
"The trouble with the rat race is, even if you win, you're still a rat." (nothing against rats!)
Lily Tomlin
Theme: Being, and Slowing Down
Our theme this year is slowing down, ahhhhhhh ……. being still, being who we are, stepping outside the rat race and remembering what is important: breath, community, consciousness. We will apply this to our slow food eating, to our slow yoga, our slow days on the beach ….
What does a typical day look like?
Sunrise yoga (sometimes with an optional meditation beforehand), then breakfast. Then we either have an activity (playshop, hike, island or beach visit), or just leisure time to stroll town or visit the beach for swimming, sunning, eating lunch, etc. Then a second yoga class before sunset. Then dinner, usually at the hotel, but a couple times we will go out to sample some of the excellent local restaurants. We will also offer a couple playshops (open to suggestions, possibly meditation, breath, healing, etc.)
Roy Holman and Liz Gross
More about Teachers click here. Roy has taught yoga, meditation, and healing for over 15 years, and Liz is not only a wonderful yoga teacher, but also is a wonderful vibrational energy healer. Roy is 500 hour certified in viniyoga. Both Roy and Liz teach with joy and passion, a grounded, flowing Viniyoga-inspired style of yoga, and includes pranayama (breathing) and meditation.
Note: Please contact Roy prior to making air reservations for details. Basically, you fly into Puerto Vallarta, take a taxi to the hotel (to be announced in details later), and plan to fly home on or after Saturday. Some of us pay for an extra night (Saturday) and fly home Sunday.
What is included for $1,350 (Early Bird $1,295)
8 Nights Hotel (double or triple occupancy): 7 nights at Casa Milagros in Yelapa and 1 in Puerto Vallarta. I can match you with others, or single room may be possible for additional fee, if space allows. Meals in Yelapa : Breakfast each morning after Yoga, and one other meal each day (lunch or dinner). Open to food requests and suggestions. Classes: All Yoga, Meditation, & Playshops, guided hikes, Boat trip to Yelapa & return, fee for carrying one bag each by mule to hotel in Yelapa!
Options and extra expenses
Taxi or bus from and back to airport in Puerto Vallarta, other meals (eating out), souvenir shopping, tips, massage (about $50), extra baggage carry up to and from hotel ($5 per extra bag), optional extra activities (island trips, parasailing, mule trips, etc.) Price: $1,350 NOT including air $1,850 INCLUDES AIR from Seattle. $100 extra includes priority room or private bath when possible. Single room $200 extra – if available, but talk with me first.
Thanks for being such a great organizer, instructor, and leader for the group! You made the trip a fantastic experiance and made your job look easy (when I know just how hard it is). I look forward to the next one!
Dan, Seattle, WA, 2012 Yelapa attendee
Yelapa Mexico Yoga Retreat
On our Yelapa Yoga Retreat we offer yoga, meditation, and much more for every body, an affordable, wonderful opportunity to relax, renew, and rejuvenate.
Starts: 01/20/2017
Ends: 01/28/2017