Mt. Rainier Yoga Meditation Hike
Palisades Lakes and Meadows
Experience the Healing Combo
of Yoga, Nature, Beauty and Community
 Friday, October 4, 2024 / $75
Price includes:
♥  Two teachers to support you for your healing retreat day
♥  Bug-Free Guided "Forest Bathing" Hike
♥  Beautiful fall colors!
♥  Good chance of seeing wildlife (Elk, Bear, Goats…)
♥  Guided Walking Meditations and Meadow Yoga
♥  Healthy, natural dessert included!
♥  Optional Cold plunge (not very cold actually).
♥  Copy of Roy's book included: Healing Self, Healing Earth.
Hike Details:
Meet: 8:00am in Seattle, or 9:00am in Enumclaw. Start hike around 10:30am, finish by 4pm, back home by 6pm or so.
Trail: 5-6 miles round trip, 1,500 foot gain. Trail is in great shape, but hike does have some ups and downs, so you need to be in decent shape. 
Yoga & Meditation: We will do some easy, standing poses in the beautiful meadows, and some guided meditations enroute.
Transport: Carpooling encouraged. Trailhead is 2 hours from Seattle. Note: Road is paved and excellent all the way to the trailhead.
Bring: Small backpack, water, maybe hiking poles, good walking boots or shoes. Bathing suit if you want to take a cold plunge!
Wildlife: Last year (2022) we saw a couple bear, an elk, some mountain goats, marmots — lots of wildlife this time of year!
Register: Call 425-422-0023 or email Roy at Holmanhealth@gmail.com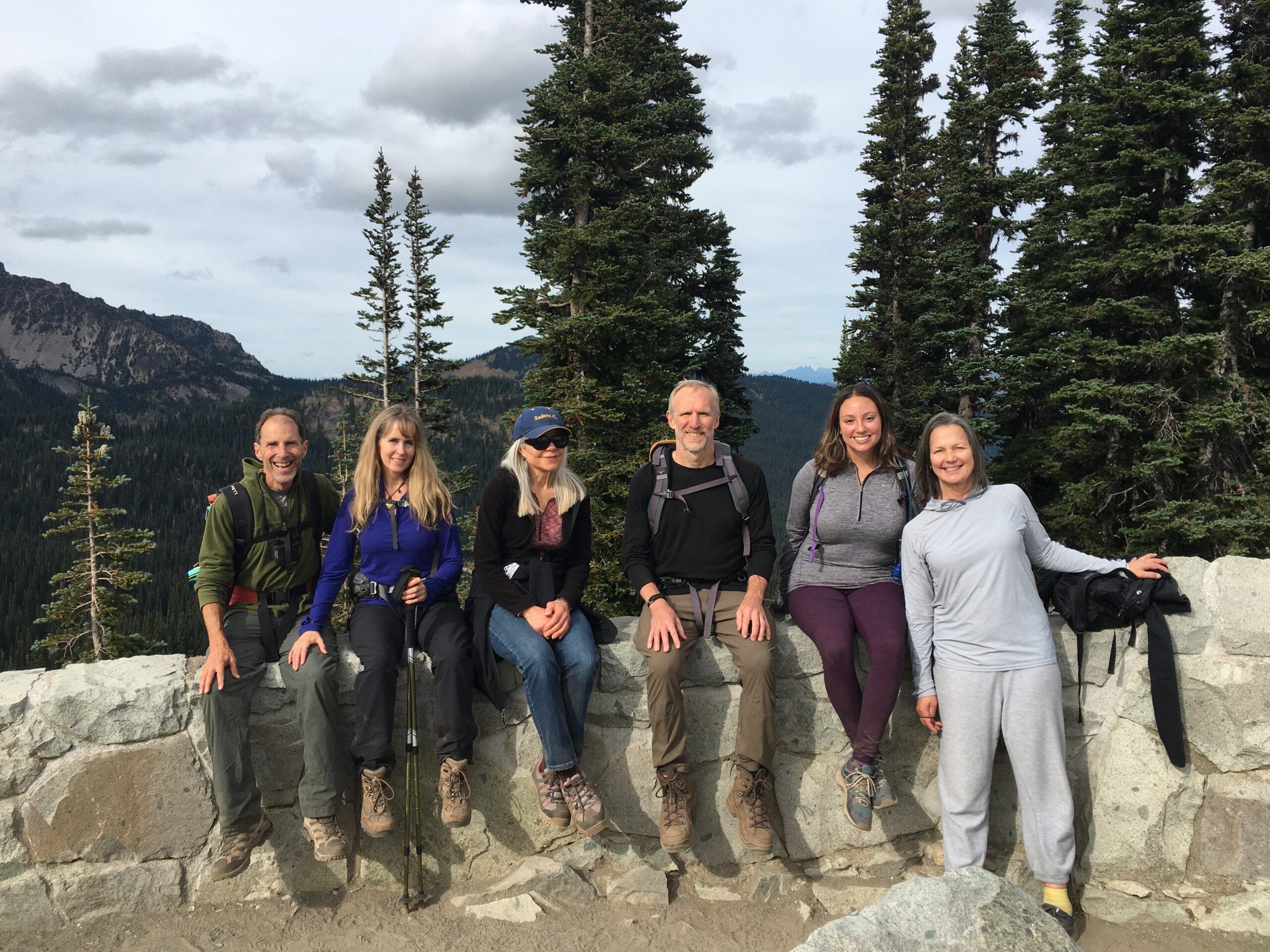 "You took good care of everyone – exceptionally!"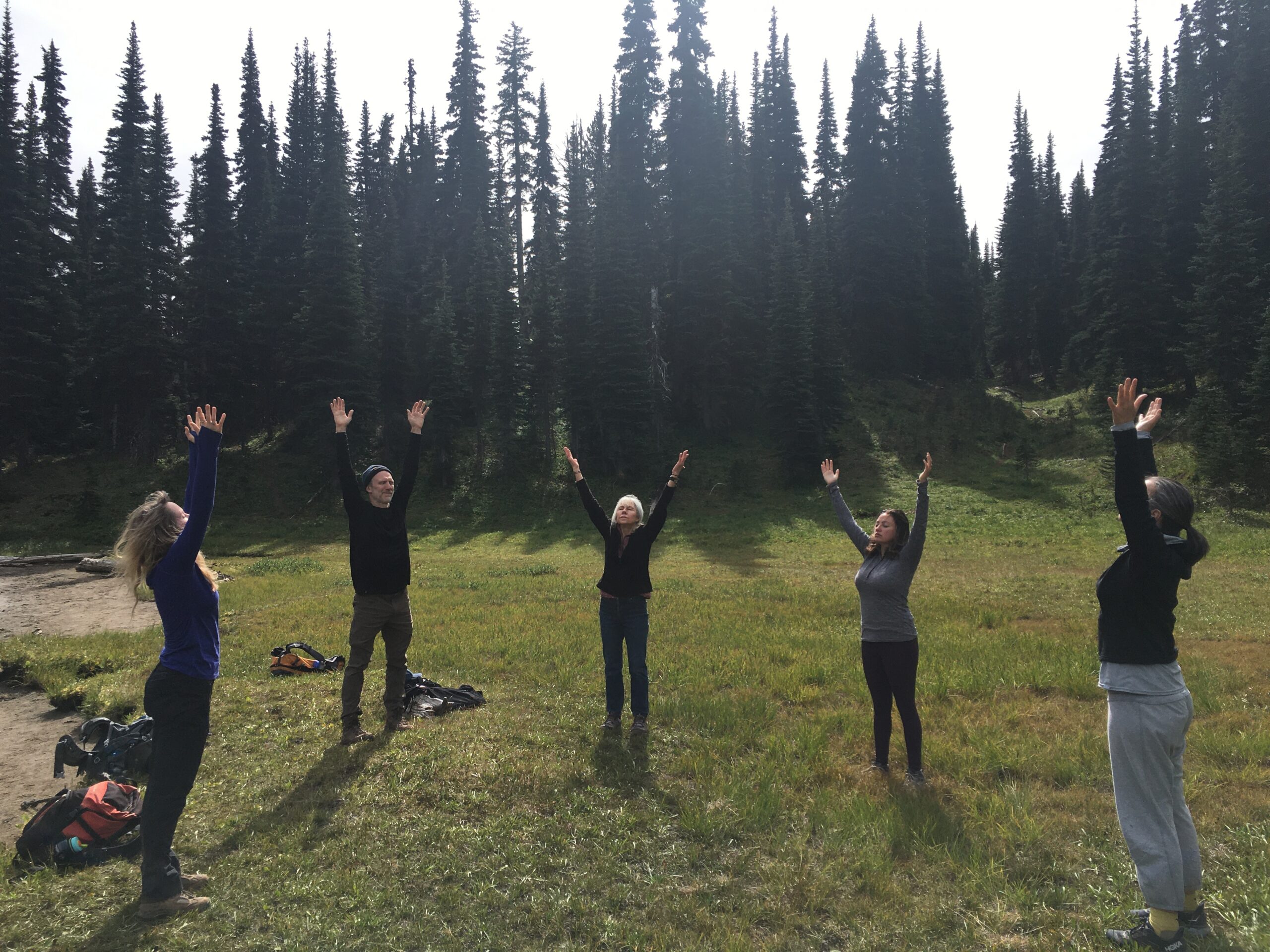 Palisades Lakes Trail
Located on the White River (Northeast) side of Rainier National Park. Beautiful drive. Trailhead is just before getting to Sunrise. This time of year is nice and cool, good for walking. If you have a National Park pass please bring it, otherwise we will all kick in.
Your guides will be Liz Gross and Roy Holman
Roy and Liz are passionate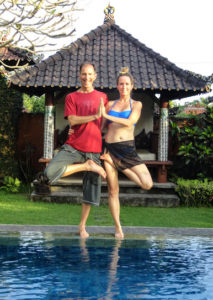 about healing and transformation. Roy has been teaching yoga and meditation for over 20 years, and has led retreats and hikes all over the world since 2000. Liz Gross also teaches yoga and meditation and is a gifted energy healer.
Picture is of Liz and Roy showing off by the pool on Bali, Indonesia on our last retreat there, one of our favorite places on Earth. But to be honest, wherever we are is a beautiful place to be!

"Doing is never enough if you neglect being."