Sedona Arizona Yoga Hiking Healing Retreat
Two Trips / Dates to choose from:
March 9-14, 2019 (5 nights trip, may be full)
October 20-26, 2019 (6 nights trip, spaces available)
See prices below (vary depending on which trip and which accommodations)
Come join us for our 11th year in Sedona …
Sacred Sedona
Come experience the sacred energy and wonderful beauty of Sedona, Arizona.  Prices vary, depending on the room. Please take off $50 if you have taken ANY retreat with us before! Price includes 5 (March) or 6 (October) nights beautiful accommodations at the MoonDance Retreat Center, daily healthy, bountiful breakfasts, one home cooked dinner, one eat out lunch, yoga, meditation, swimming, guided hikes, vortex visits, and other trips, shuttle from and to Phoenix Sky Harbor Airport, and shuttle to all guided hikes.
"The yoga, the hiking, the people; this was my best vacation ever."
Roger, from 2012 Sedona retreat
Theme:
For March trip …
Our theme is flexibility, acceptance, forgiveness and dealing with anger. During this amazing Earth shift, we feel like we are being bombarded with change. We will explore how to handle the changing energies and the tremendous shifts that are happening and increasing.
For October Trip …
Less is more. Any of you so busy that you do not rest enough, play enough, or experience enough joy in your life? Welcome to the human reality! This pattern of working too hard and struggling and striving is not innate or fixed in stone, so come experience five or six days of playing, laughing, hiking, stretching, breathing deeply, soaking up sun, swimming, eating mindfully and remembering who you are and what is important.

Price includes
Sedona Yoga Hiking retreat includes daily awesome, healthy breakfasts, two other meals during the week, daily yoga, healing workshops, daily guided hikes, special sacred vortex sites, shuttles to and from airport (if you can meet us at airport by 11am Sunday), and to trail heads, and local shopping. No worries if you do not have a room-mate, we will find you someone compatible. We also may have a couple single rooms available. We will be staying right in the heart of Sedona, Arizona.

Teachers and Hike Guides
Roy Holman and Liz Gross will teach the yoga and lead the hikes and other activities. Roy has led over 60 retreats in Washington, Mexico, Guatemala, Hawaii, Bali, and Costa Rica. This will be our 11th retreat in Sedona, so we know the best hikes, vortexes, sites and restaurants! Roy is trained at the 500 hour level in Viniyoga, a breath-connected, body-friendly, heart centered, meditative flow yoga. This retreat is suitable for all yoga and hiking levels. Liz Gross is a yoga teacher and gifted vibrational energy healer and outstanding cook!
Deluxe Accommodations in Sedona
Our host hotel MoonDance is a
wesome. Trip Adviser raves about it. Great spacious rooms, swimming pool, great views, wonderful setting, amazing breakfasts, and cozy yoga space. We have the whole place to ourselves with no other guests or groups.  Moondance click here
Meals
Daily healthy, mostly organic breakfasts are included, usually a wide variety buffett of oatmeal, eggs, granola, cereal, nuts, seeds, nut butters, breads,various milks (diary and non-dairy), fresh fruit, flax, hemp, and much more. We will make sure all diets are met. We also include one home-cooked delicious dinner, and we will take you out for one gourmet lunch at Mariposa.
For other meals, we shop at a local natural foods store for our lunch or dinner fixings, which we keep at the hotel to take on hikes. Then we usually dine out 2-3 times, or you can save money and cook at the retreat center. As this is our 11th year in Sedona, we know the best places to eat, usually one night Thai, one night Fancy Mexican, one night excellent Health food, etc.
Rooms and Rates: Please look over the list of rooms and rates below and tell us your 1st, 2nd and 3rd choices. We will do our best to meet your needs.
These prices are for the six night October trip.
if you have attended any retreat with us before!
Note: The number in parenthesis (4) is the approximate room rating (1-5, with 5 having the highest rating), according to our estimates of size, view, comfort, private bath, etc.
Sage (3.5): The first room has three single beds, and a small, full private bathroom.   $1,150 each x 2 = $2,300 or $1100 each x 3 = $3,300 for 3 people
Lavender room (4):  The next room going down the right hall has two singles and a full private bathroom with tub.  1,200 x 2 = $2,400
Jade room (4.5): The large room with a view and lots of light has a Queen bed and a full private bathroom and a roll away bed.  $1,250 x 2 = $2,500
Yang room (3.5): From the foyer the first room on the left has a Queen bed (share community bathroom/ shower, right next to your room).  $1,300 single or $2,000 for two ($1,000 each)
Garden (3.0): The next room has two singles, guests share community bathroom/ shower.).    $1,100 each x 2 = $2,200
Master Lavender Suite (5): King bed, a full private bathroom, jet tub, and breakfast nook, fridge, and roll away bed. (2 people)  1,350 x 2 = $2,700
Peace Nook (3): Cozy sleeping nook with a Single bed and a small closet. Morning light. Guest shares community bathroom/ shower.)   $1,300
Den Room (2): Futon, shared bath, This room is a fairly open (half walls and asian screens), and near kitchen, so it is our most economical option. The bath is close however, and almost like a private half bath since other rooms have their own bathrooms in that area. Room runs on the cool side. 1 person $950
Zen Room (4.5): Only upstairs room, private deck with view of Cathedral Rock. Full size bed and a private ½ bathroom. Guest(s) share community shower.   $1,250 x 2 = $2,500 or $1,400 for one
What We will Do during yoga retreat
At least one daily yoga class (sunrise or sunset), some vortex visits and  meditations, healing workshops, daily hikes, and other activities. We expect to have about 12-14 people attend. All classes, hikes, and activities are optional. March is a cooler season, while October will be a bit warmer.  Note: Please contact me before you book your flights, for details. Some folks choose to arrive early or leave late, which is fine. Otherwise we will meet at the Phoenix airport the first morning and I will have a rented van waiting. Please arrive by 11am if you plan to ride with us to Sedona from Phoenix, and plan to fly home no earlier than 2 pm, again, only if you want to ride with us back from Sedona to Phoenix. I cannot cover costs of separate transport, only with van. Separate shuttle is about $60 each way.
General Day by Day Itinerary of Trip (5 day trip same but one day shorter)
Note: All classes, hikes, activities are optional of course. Rest when you need rest. Day 1: Meet in Phoenix for shuttle van ride to Sedona (or meet us in Sedona). Visit sacred site, yoga class, dinner. Day 2: Morning yoga. B-fast, Fay Canyon easy 3 mile hike. Natural Foods store for grocery shopping. Out to dinner. Day 3:  B-fast, Bell Rock Vortex hike, 3 miles. Afternoon yoga, Amitabha Peace Park Stupa, out to dinner. Day 4: Meditation option. Morning yoga, B-fast, Healing Playshop, hike on Little Horse Trail  up to Chicken Point. Dinner at Moondance. Day 5: B-fast, then hike  Airport Loop Vortex trail, souvenir shopping at Crystal Magic, out to dinner. Day 6: Meditation option. Morning yoga, B-fast, Cathedral Rock Vortex hike, closing ceremony and out to dinner. Day 7: Morning yoga, B-fast, shuttle to airport (or your own transport)
Register Now! Note: Please let us know if you already have a room mate you wish to share with. Please note that we will do our best to honor your request for single, double or triple as we arrange the rooms. Checks ($300 nonrefundable deposit or entire amount) can be sent with REGISTRATION to: Roy Holman, 1917 Rockefeller Ave, Everett, WA 98201 Or you may pay securely online via PayPal: Make a deposit of $300:
Pay approximate full amount of $1000:
You might consider purchasing travel & flight insurance, if you are concerned about health or cancelation. One highly rated company is InsureMyTrip.com  although there are many others.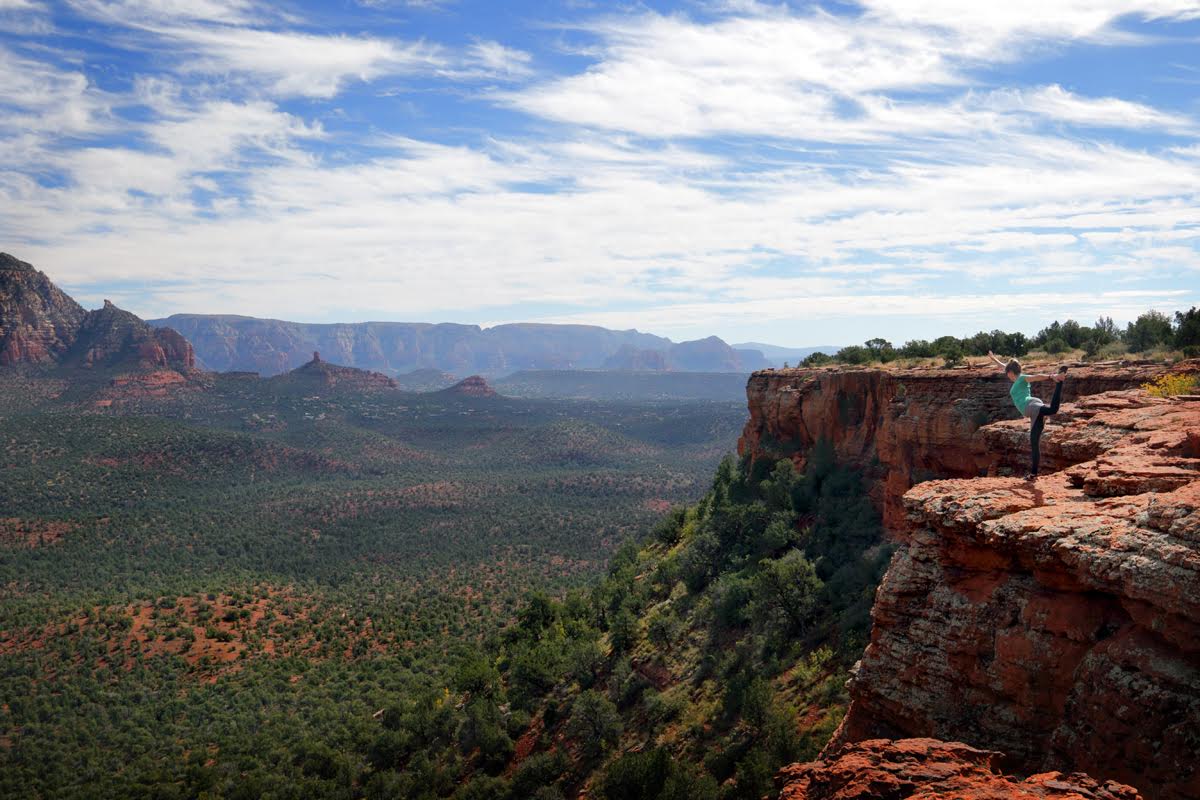 A good traveler has no fixed plans, and is not intent on arriving.

Lao Tzu
[schema type="event" evtype="Event" url="https://holmanhealthconnections.com/sedona-az-yoga-retreat/" name="Yoga Retreat Sedona Arizona" description="We will have at least one daily yoga class (sunrise or sunset), some vortex visits and meditations, healing workshops, daily hikes, and other activities. " sdate="2019-3-9″ "2019-3-14″ city="Sedona" state="AZ" country="US" ]