Wellness Retreat in Yelapa, Mexico
Casa Isabel Retreat Center
January 11-18, 2024
Yoga – Meditation – Hiking – Beaching
Prices range from $1495 to $1695
depending on room
Theme of this Retreat: Slowing Down, Balancing and Renewing the Mind
Where is Yelapa, Mexico and why would I want to go there?
On our Yelapa Yoga Retreat we offer yoga, meditation, and much more for every body, an affordable, wonderful opportunity to relax, renew, and rejuvenate. Yelapa is a delightful Mexican fishing village, located on a sleepy little bay just south of Puerto Vallarta. Since there are no roads to Yelapa (one of the things we love most about the town!), we take a 45 minute boat ride from Puerto Vallarta to the village. As there are no roads in Yelapa, there are no cars, less noise, less pollution and less stress. The donkeys used for transport make their own noise and pollution, but we'll manage! Temperatures in January: refreshing 60-65 at night, 75- 85 in the day. Note: This is the dry season, so normally lots of sun. The food is fresh and delicious, including local fish, chicken, enchiladas, tortillas, ceviche, beans, avocado, pies, fruit (papaya, banana, pineapple, melon, etc.). Fresh fruit beverages. Yum!
"Thank you for all that you did to make our week in Yelapa magical. I had a great time and it truly changed my life for the better."
Upon Arrival in Mexico
We meet for one night in romantic old town Puerto Vallarta, staying right on the beach at the Emperador Hotel. On Saturday morning, we walk right across the walkway to the pier and boat that takes us on a beautiful 45 minute ride to Yelapa, often visited and welcomed by dolphins or whales enroute. In Yelapa, we are dropped off by boat right on the beach in front of our home for the week: Casa Isabel. Located in beachfront jungle, a short walk from town, we enjoy an incredible view of the bay, sometimes spotting whales while we dine on the patio, or as we stretch with our patio yoga. Note: There are uneven paths and steep steps to our hotel, so please talk to us about any physical challenge you are concerned about.
Casa Isabel Retreat Center
Casa Isabel is a beautiful, slightly rustic retreat center, located in the jungle, with many rooms that open up to the bay.  Casa Isabel offers a variety of unique ocean-view accommodations, their privacy insured by lush shrubs and flowering vines planted a long time ago.  It has been fully, sustainably, and artfully reconstructed in 2009. Huge trees form a jungle canopy over an enchanting garden hillside. Hotel has some wifi. Included are two meals each day, which gives us freedom to explore town for some delicious local foods.
Yoga on the Pavilion
(See big pic above)  Overlooking the bay, accompanied by the birds. We generally do sunrise and sunset yoga, and various profound teachings, meditations, processes and workshops. We will have plenty of activities scheduled, yet keeping things as flexible and open as possible to allow people to create their own experience, with free time to relax, swim or snorkel every day, roam the village, hike the river valley, play in waterfalls, sip from coconuts, or drink fresh fruit juices on the beach. There are extra options available for a very reasonable fee, including massage, whale watching, fishing, snorkeling and other boat trips, island visits, parasailing, etc. Note: Everything is optional, but we encourage you to attend as many of the yoga and oneness classes to help create a sacred energy for the group.
"The trouble with the rat race is, even if you win, you're still a rat." (nothing against rats!)
Theme: Slowing Down, and Balancing & Renewing Mind
I asked a local during our 2020 visit to Yelapa: "Do you have police in this village?" He responded: "No es necesario." It's not necessary! Isn't that cool? A place in this world where police are not needed!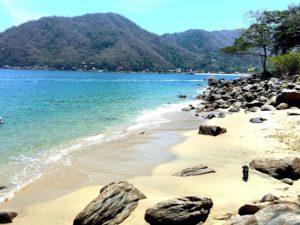 Our theme this year is …. first, slowing down, and second, balancing and renewing the mind. Let's face it, our minds and brains are taking a beating on earth. We are moving too fast, thinking in faulty ways, and we are all experiencing tremendous pressure to be on our electronic gadgets, social media, and keep up with news and information, which can further imbalance us. And then there is the subtle and not so subtle conditioning, programing, even mind control tactics we must be honest about.
Note: I once met a woman who had just written a book on how to handle the information overload–which I found ironic, another book to read 🙂
What does a typical day look like?
Sunrise yoga (with an optional meditation beforehand), then breakfast. Then we either have an activity (playshop, hike, island or beach visit), or just leisure time to stroll town or visit the beach for swimming, sunning, eating lunch, etc. Then sometimes a second yoga class before sunset. Then dinner, usually at the hotel, but a couple times we will go out to sample some of the excellent local restaurants. We will also offer a couple playshops (open to suggestions, possibly on balance and renewing the mind (our theme). We also include a short boat trip to a beautiful little cove with good snorkeling. We also guide you on a nice hike up the river valley and swim at a waterfall.
Room Options
Passion Palace: For two people $1,495 per person.  Has a private shower and toilet, a double bed and a single bed tucked on the other side.  Rustic and back to nature, view of huge huanacaxtle tree. Note: Please add $25 if you want the double bed, or take off $25 for the single bed)
Cool Corner: For two people, $1,495 per person.  Raised double bed, plus single bed, under bougainvillea, with some view of the water. Outdoor private shower and private toilet. Note: Please add $25 if you want the double bed, or take off $25 for the single bed)
Penthouse:  For two people, $1,595 per person. A self-contained unit atop Casa Central, overlooking the lawn and gardens.  It has a hanging double bed and a sofa which converts to an individual bed, private bath, and a kitchen. The balcony outside Penthouse is often fabulous for sunbathing, bird watching, or just existing. Note: Please add $25 if you want the double bed, or take off $25 for the sofa bed)
Annies: Two people, $1,695 per person, or three people $1,495 each. Popular room, spacious, kitchen, queen bed and double bed, optional single as well, private shower and toilet, and kitchen. Wide open view of water and jungle.
Casa Jade:  For 3-4 people, $1,595 each.  There are three rooms sharing this beautiful complex. Casa Jade overlooks the canyon waterfall and an orchard, and is our largest and sunniest rental, with varied views.  Three private bedrooms (each with a different panoramic view), have 1) one king and 2) two queen beds, and 3) an individual-sized daybed.  Jade has two showers, two bathrooms, two sofas, two hammocks, a fire-pit, large kitchen and multiple sunbathing balconies.
Nook: Single small room for one person, shared bath, $1,700
Roy Holman and Liz Gross
More about Teachers click her
e. Roy has taught yoga, meditation, and healing for over 20 years, and Liz is not only a wonderful yoga teacher, but also is a wonderful vibrational energy healer. Roy is 500 hour certified in viniyoga. Both Roy and Liz teach with joy and passion, a grounded, flowing Viniyoga-inspired style of yoga, and includes pranayama (breathing) and meditation.
Note: Please contact Roy prior to making air reservations for details. Basically, you fly into Puerto Vallarta, take a taxi to the hotel (to be announced in details later), and plan to fly home on or after the 18th.
What is included:
7 Nights Hotel: 6 nights at Casa Isabel in Yelapa and 1 in Puerto Vallarta. 
Meals in Yelapa : Healthy buffet breakfast each morning after Yoga, and one other delicious buffet meal each day (lunch or dinner). Open to food requests and suggestions.
Classes: All Yoga, Meditation, & Playshops
Guided hike to waterfall up beautiful river valley
Boat trips to Yelapa & return included.
Snorkel and beach trip to Majahuitas
COVID Policy
Yoga is about unity and oneness, not divisiveness and polarity. All are welcome on our retreats. We do not discriminate for any reason, including sex, gender, race, age, vaccinated or unvaccinated, masked or unmasked. We trust you to take care of yourself, and to decide first, if this trip is for you, and second, how to take care of yourself. We will do our part to keep everyone safe and honor all our needs, but ultimately, your health is your responsibility. May this retreat be a healing experience for all.
Payment and Refund Policy
It may be advisable to purchase Travel Cancelation insurance, as there is much uncertainty and change these days (you may have noticed!). We request a $500 deposit ($100 for Washington Retreats), balance due 30 days prior to trip–when possible.  Note:  Deposit is generally nonrefundable. 3/4 of later payment may be refunded if you cancel > 30 days prior to trip, 1/2 refund if you cancel 15 – 30 days prior to trip (depending on retreat center refund policy), no refund under 15 days prior to trip–unless I can get some money back from hotels and retreat center.  Note: In these wild, COVID times, we do our best to expand our refund policy, being fair to all involved.
Extra expenses and Options
Taxi ($25) or bus ($3) from and back to airport in Puerto Vallarta, other meals (eating out), souvenir shopping, tips, massage or watzu (water massage, about $75), optional extra activities (island trips, parasailing, mule trips, etc.)
Thanks for being such a great organizer, instructor, and leader for the group! You made the trip a fantastic experiance and made your job look easy (when I know just how hard it is). I look forward to the next one!