Bali Yoga Retreat
Join us for an amazing retreat in Bali, Indonesia
May 4-14, 2023 (10 Nights)
4 spaces left
$1995 Per Person (Double or Triple Occupancy)
Join Roy Holman and Liz Gross for a trip of a lifetime!
Yoga in Bali
We are very excited about this trip. People often ask us "what is your favorite trip?" In truth, we do not have one, as we LOVE all the places and people where we go. However ….. Bali is special. The people are special. AND, this Bali trip seems to keep getting better and better, as we gain experience in finding the best places and hotels.
This will be our fifth yoga retreat to the magical land of Bali, Indonesia. The Balinese people truly touched our heart on our visits in 2014, 2015, 2016 and 2019. Spirit, artistry, kindness and balanced feminine and masculine energy are infused into every aspect of life there. Bali may well be the yoga retreat capital of the world, and we have found the most awesome way to explore Bali!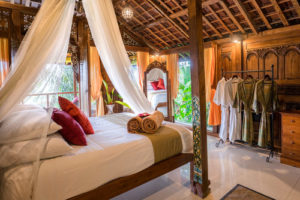 We will have three or four trips in one really, with one night in the nice beach town of Sanur, a nice place to land, ground, settle in. Then we have two nights on the nice little island of Nusa Lembangan, a half hour boat ride from Sanur, for snorkeling, beach, yoga and chill time. Then 3 nights in the popular town of Ubud. We finish with 4 nights at the incredible Alassari Retreat Center (room pic at left) in the highlands of central Bali. Check out Tripadvisor's perfect 5.0 rating. We will receive three healthy meals a day at Alassari.
"I wanted to thank you and let you know what a beautiful, wonderful, inspiring experience you gave me. My husband noticed something different about me and said I was zenned out, and I do feel a subtle shift for the good. I signed up for a vacation with a side of yoga but came home with so much more. I think my heart has more of a voice now in what I think and do, and I want to work to keep it this way. You and Liz are truly gifts. Thank you so much for sharing your kind souls with our group and with me." 
Theme: Accept and Allow
We will have a theme of "Loving What Is".  A challenge for most of us! many of us resist life and hate this or detest that. We will explore the importance of letting go of resistance to what is, making peace with the world as it is, and assuring that any activism and attempts to change anything come from our clear, calm, conscious center.
Accommodations and Travel Plan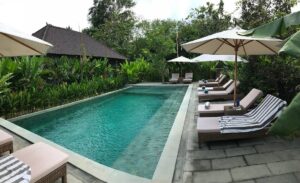 We will be staying in four different retreat centers on this trip, all wonderful. After our first night in Sanur, we take a half hour boat ride to the small island of Lembangan and stay at the comfortable and relaxing Royal Retreat Villas (pic at left) for two nights. We do yoga right on the property. We will also include a private boat snorkel trip to the best snorkel spots and best beaches. Breakfasts and dinners included for these two days.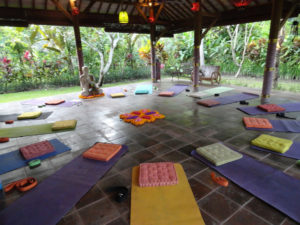 Our next stop is Ubud, the art, yoga and spiritual center made famous by the book and movie, Eat, Pray, Love. We stay three nights in the yoga center of Ubud, where we will attend a powerful water ritual, visit the Monkey Forest, taste local dishes, and shop for amazing local goodies. We stay at Swasti Eco Cottages with their amazing yoga space (pic at right)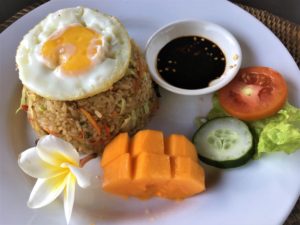 Alassari  is where we stay for the last four nights in the Bali highlands, as mentioned above. The rooms are spacious and beautiful, and they also have a beautiful swimming pool, and an incredible, elevated yoga space, overlooking the jungle, for our yoga with Roy and Liz. This part of the trip includes 3 meals a day for the 4 days — delicious healthy food, juices, coffee, tea, etc. Our group will bring a maximum of 16 people, so it will not be a big group, more intimate. The food at Alassari is organic and much of it right out of the garden, and they are meticulous about healthy details. Note: We ask that we refrain from alcohol during these last few days, to maintain a sacred space for our yoga practice. Thank you for understanding.
Itinerary for 11 Day Trip
Note: You may have to leave a day early to arrive on time. Plan to arrive in Bali (flying into Denpasar international airport) on May 4, 2023. You do not need a visa. But do make sure your passport is good for 6 months, the minimum they require.
Note: Many people choose to arrive on May 3, to relax a day by the beach and rest before trip starts. If so, I will set up your hotel and shuttle, no worries. Just an extra $50 for one night shared hotel room.
Day 1: Fly into Denpasar, where we will have a taxi or shuttle take you to your hotel in Sanur just 20 minutes from the airport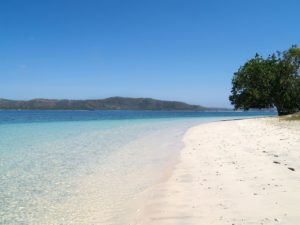 .
Day 2: B-fast, then half hour beautiful boat ride to the tiny island of Lembangan, where we spend 2 nights, with yoga, swimming, etc.
Day 3: B-fast, then boat trip to various beaches and snorkel spots. Spend day relaxing, wandering, sunning, swimming eating amazing food! Afternoon yoga.
Day 4: Morning yoga, B-fast, then boat ride to Padang Bai, and on to Ubud.
Day 5: Morning yoga, B-fast, then shopping, monkey forest, afternoon yoga, etc.
Day 6: Day in Ubud: morning yoga and breakfast. Tirta water ritual, maybe massage or reflexology (inexpensive), great food.
Day 7: Shuttle to the mountains of Bali to Alassari for 4 nights of of yoga, hiking, great food, waterfalls …..
Day 8 – 10: same as above: massage, hike to temple, cooking class, offering class, and "jamu" class (how to make traditional medicines from herbs), possible bike from mountains to beach, garden tour, yoga, and other optional trips and services and healing.
Day 11: Yoga, breakfast. Shuttles to airport for flights home, unless you cannot leave!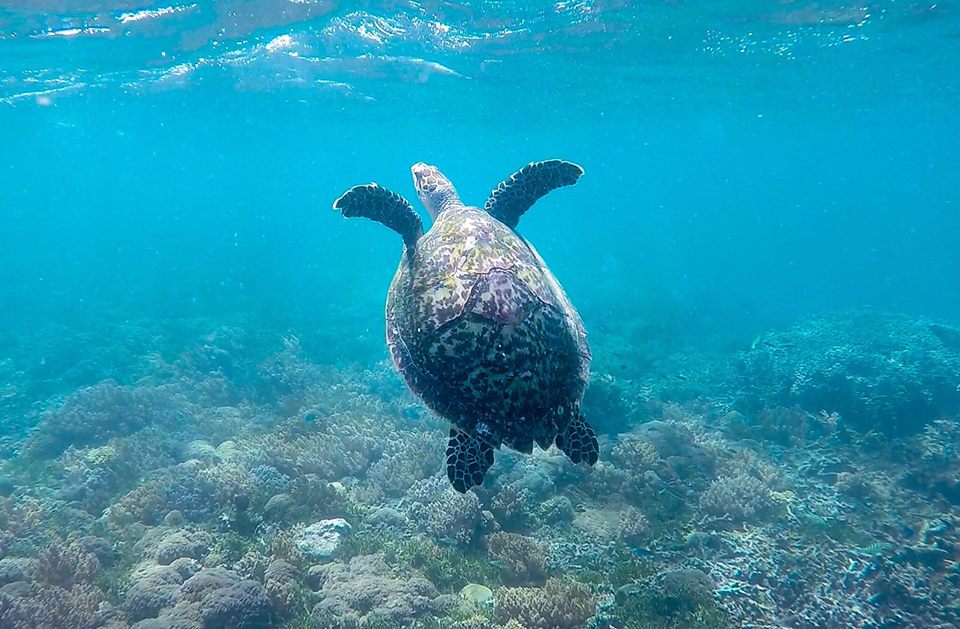 The retreat was exactly what I needed.  A beautiful blend of yoga, spiritual, fellowship, cultural, fun, rest and relaxation.  The deep spiritual work changed me. I am in greater touch with me and actually taking steps to shift my life more in line with my authentic self. I appreciate the opportunity to become a Oneness Blessing giver. I receive so much joy from giving blessings.  Roy and Liz are the perfect guides!
What is included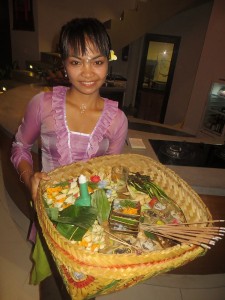 10 nights accommodations (usually two to a room, sometimes three): one night in Sanur, two on the island of Lembangan, three in Ubud and four in the mountains of Bali at Alassari
Most meals: all breakfasts for 10 days, 6 dinners, 4 lunches (this leaves freedom to sample local restaurants)
Daily morning (and some afternoon) yoga classes by Roy and Liz,
Playshops / workshops / Earth Ceremony
Bali ground transportation to and from airport area, and to all our hotels
Water transportation to and from Lembangan island
Ubud water ritual
Indonesian cooking class
Jamu herbal medicine making
Offering class (how to make traditional Balinese offering)
One delicious massage each, ahhhhhh
Guided mountain hike
One boat snorkel trip on Lembangan
Shuttle back to the airport
Note: Take off $50 if you have taken an international retreat with me!
holmanhealth@gmail.com         Roy Holman 425-422-0023
PLEASE NOTE: We will do our best to stay safe, but with all the polarity and division, in the Spirit of Yoga (union) we will NOT be adding to it by discriminating between masked or unmasked, vaxed or unvaxed, etc. We trust one another to take care of one's self and the group. All welcome!
You might consider purchasing travel & flight insurance, if you are concerned about health or cancelation. 

One highly rated company is InsureMyTrip.com  although there are many others.
Checks can be sent with REGISTRATION to: Roy Holman, 1917 Rockefeller Ave, Everett, WA 98201
Or you may pay securely online via PayPal:
Make a deposit of $500:
Make a payment of $1995:
Walked away from Roy's 2015 Bali Retreat feeling blessed and full of grace. Another testament of how beneficial it is to follow your spirit as I came across this retreat during a random search online. His retreat was a yoga retreat in every sense of the word. Roy and the group provided an atmosphere where being transparent felt safe. The morning and afternoon asanas were great but it was the encouragement for spiritual growth and self discovery that made this retreat so meaningful to me. And in the spirit of balance and harmony, we were given plenty of free time for exploring Bali and having some fun.