Costa Rica Yoga Meditation Retreat
No New Dates Until Things Settle Down on Earth 🙂
at Tierra de Suenos (Land of Dreams) in the Caribbean Rainforest
Per person prices: $1,695 per person double
"Journeys bring power and love back into you."   Rumi
PLEASE NOTE (please see COVID policy details below): We will do our best to stay safe, but with all the polarity and division, in the Spirit of Yoga (union) we will NOT be adding to it by discriminating between masked or unmasked, vaxed or unvaxed, etc. We trust one another to take care of one's self and the group. All welcome!
I loved the seven days: the sunshine, ocean, lunch in the seaside restaurant, the daily yoga and meditation, the camaraderie, the incredibly beautiful jungle.
Yoga in Rainforest Prana Paradise
Tierra de Suenos (Land of Dreams) Wellness Center sits right in the middle of the Caribbean rain forest! Price per person of $1,695 (double) includes 8 nights hotel, most meals, Costa Rica ground transport, all classes and workshops, & Cahuita National Park trip. The Hotel is a 5 minute walk to the beach.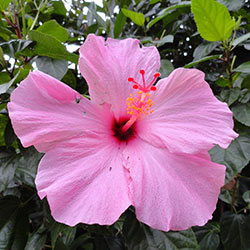 Pura vida!
Come visit the lush, wild, and wonderful Caribbean side of Costa Rica. After three years on the Pacific coast, we moved our yoga retreat to the less touristy Caribbean side. We hold our yoga retreat at the beautiful Tierra de Suenos (see below), but we will also have a relaxing first and last night of the trip at the lovely Adventure Inn, about 10 minutes from San Jose airport.
Calendar / Itinerary
Please note: All activities are optional of course.
Day 1: The first night will be in San Jose at the Adventure Inn. They also pick you up at the airport (included). Dinner is on your own, or with group.
Day 2: We eat breakfast (included) and then our shuttle drives us through the beautiful jungle over to the Caribbean and the sleepy little village of Playa Chiquita, where we spend 7 nights, two meals daily included. Beach time. Afternoon intros and gentle yoga. Dinner at hotel.
Days 3: Morning meditation and yoga. We will take a half hour hike down the beach to Punta Uva, one of the most beautiful beaches in the world. We often see sloths here. Afternoon yoga or meditation. Dinner at hotel.
Day 4: Morning meditation and yoga with Roy or Liz, then a day to relax on the beautiful beach just 5 minutes away. We will have a playshop / workshop and yoga in the afternoon. Lunch at hotel, and dinner out at a local restaurant a short walk away.
Day 5: We will take a shuttle to Cahuita National Park (included in your price), where we will again take a beach hike or walk and stop to swim enroute. We often see sloths, and various types of monkeys, and coatis, and other wildlife like blue morpho butterflies. We will eat lunch in town, dinner at hotel.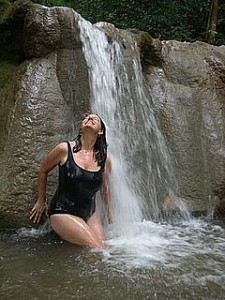 Day 6: Usual morning meditation and yoga. Various options: zip line tour, bike rental, massage, jaguar sanctuary waterfall visit.  Dinner out at local restaurant in Play Chiquita.
Day 7:  After yoga and meditation, and daily breakfast, those who are interested with either take a two hour hike (or bike or bus) to town of Manzanillo. Snorkel option, and we will eat out at Max's famous classic, casual Caribbean cuisine. Hike, bike or bus back to healing playshop. Dinner at our hotel.
Day 8: Last full day and night on the Caribbean, to relax, enjoy swimming, sunning, relaxing.
Day 9:  After yoga and breakfast you are on your own to decide the rest of your trip. If you like, we will take you in the shuttle (included in your package) back to the Adventure Inn for a last night in San Jose (extra cost). Swim and relax time, dinner out optional.
Tierra de Suenos Wellness Center & Lodge
At left is a typical bu
ngalow we will be staying in. Tierra de Suenos (Land of Dreams) Lodge and Wellness Center will be our home for 6 of the 8 nights. This friendly Center is a delightful, quiet and peaceful place located in the fun, tiny village of Playa Chiquita, a serene and lush jungle hideaway on the Caribbean coast of Costa Rica. The rooms are made of local hardwood, with two beds in every room. They also have a beautiful yoga deck overlooking the jungle.  The Caribbean beach is only a five minute walk away, and there are tons of other beautiful beaches and optional activities nearby. Prices are $1,695 per person double occupancy, $1,650 triple, and $2,195 single if available.
Meals
Our meals are served on the lovely jungle porch. Two meals a day are included in your price, for the six days on the beach. This is the way we prefer to do it, for two reasons. It keeps the price down, and also keeps us fro overeating! But we also get some free to time sample local restaurants and eateries, rather than be bound to the lodge. You also receive free breakfasts for the two mornings in San Jose. We kindly ask that alcohol not be consumed at the retreat center, to maintain a sacred space for growth and healing, but there are plenty of opportunities for off site moderate indulgence.
Theme
Compassion will be our theme for this retreat. Compassion includes acceptance of self, others, and life situations.  Compassion moves us out of resistance and suffering to joy and love. We will also explore moving out of patterns of judgment, resistance and limits.
 
Yoga
Heart centered, body-friendly, breath connected yoga for every body. Please see details on the style of yoga on instructor page. morning and late afternoon classes each day, with other playshops.
Activities and Schedule
March is a good time of year weather wise on the Caribbean. We have morning and / or sunset yoga, healing workshops, swim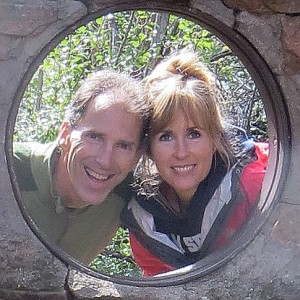 ming (ocean), hiking, biking, wildlife sighting and photography, snorkeling, and other options such as zip line ride, indigenous village visit, wildlife sanctuary visit, massage (great massage!), kayaking, waterfalls, and much more.
Wildlife
We will probably see howler monkeys, white face monkeys, two toed and three toed sloths, various colorful frogs, morpho butterflies, coatimundi, toucans, iguana, parrots, and other amazing birds and critters.
COVID Policy
Yoga is about unity and oneness, not divisiveness and polarity. All are welcome on our retreats. We do not discriminate for any reason, including sex, gender, race, age, vaccinated or unvaccinated, masked or unmasked. We trust you to take care of yourself, and to decide first, if this trip is for you, and second, how to take care of yourself. We will do our part to keep everyone safe and honor all our needs, but ultimately, your health is your responsibility. May this retreat be a healing experience for all.
Payment and Refund Policy
It may be advisable to purchase Travel Cancelation insurance, as there is much uncertainty and change these days (you may have noticed!). We request a $500 deposit ($100 for Washington Retreats), balance due 30 days prior to trip–when possible.  Note:  Deposit is generally nonrefundable. 3/4 of later payment may be refunded if you cancel > 30 days prior to trip, 1/2 refund if you cancel 15 – 30 days prior to trip (depending on retreat center refund policy), no refund under 15 days prior to trip–unless I can get some money back from hotels and retreat center.  Note: In these wild, COVID times, we do our best to expand our refund policy, being fair to all involved.
Airport in Costa Rica: fly in and out of San Jose
"Wonderful, helpful, compassionate teachers, excellent location. A fun week with great people at a great price."
COVID Policy
All are welcome on our retreats. We do not discriminate for any reason, including vaccinated or unvaccinated, masked or unmasked, for the following reasons:
Yoga is about unity and oneness, not divisiveness and polarity.
We trust you to take care of yourself, and to decide first, if this trip is for you, and second, how to take care of yourself. We will do our part to keep everyone safe and honor all your needs, but ultimately, we feel your health is up to you.
Our body knows how to handle a virus, and has done so for millennia. We trust our body's innate wisdom to heal. There are outstanding protocols from Dr. Mercola, Dr. Zelenko and many others (Vitamin D, Vitamin C, Zinc, Quercetin, sunshine, clearing fear, etc.) to keep us safe.
Science is now showing unquestionably that the vaccine—which is actually not a vaccine, but an experimental mRNA injection—is neither safe, effective or necessary. It does not prevent either infection or transmission.
Masks, unless professionally and personally form-fitted with an N95 or N100, do not work for viruses. There is no science that shows that the masks that most of us use work for a virus. Yoga is about life and breath. Masks reduce the amount of oxygen to harmful levels, and increase the amount of carbon dioxide, also to harmful levels.
Mask and vaccine mandates are unconstitutional, illegal, unnecessary and demonstrably harmful.
At last count (September 1, 2021) according to VAERS and the CDC, there have been over 590,000 adverse reactions to the vaccine, and 13,000 deaths in the U.S. This is not being reported in the mainstream news, but you can look it up for yourself. Furthermore, studies show that only 1 to 10% of actual adverse reactions and deaths get reported to VAERS (Vaccine Adverse Experience Reporting System).
Europe numbers are 21,00 dead from COVID vaccine (over 2 million adverse reactions) and Brazil's numbers are 32,000 dead (through August 2021).
We choose truth, freedom, sovereignty and responsibility over fear, tyranny, disinformation and disempowerment. By "following orders" and "playing it safe" (wearing masks and getting vaccinated), we may in fact be "playing it very dangerous", as the harmful effects of both masks and vaccines becomes ever more apparent.
Finally, please know that we have done extensive research. Truth matters.
Teacher and Guides
Click here for info on our instructors and guides. Costa Rica 2013 Retreat Video (4 minutes): Click Here Costa Rica Retreat Photos : pictures from our past retreats. The prices below include 8 nights hotel, most meals for the 8 days (2 daily meals at Tierra de Suenos, breakfasts at the Adventure Inn), taxis and shuttles to and from the airport, and to the Center, and a Cahuita National Park hike and beach day. Yoga retreat prices are as follows (per person)
Single room – $2,195 (if available)
Note:  Please let me know if you wish me to help you purchase your flights for you (no extra fee). If you do your own, plan to arrive in San Jose by Saturday afternoon or evening, March 4, in SAN JOSE, and most of us will fly out Sunday, March 12 or Monday March 13.
You might consider purchasing travel & flight insurance, if you are concerned about health or cancelation. One highly rated company is InsureMyTrip.com  although there are many others.
Some of the extra activity options

(prices are per person, and may vary slightly): SNORKLING IN CAHUITA ($30), MANZANILLO BEACH & WILDLIFE RESERVE ($35), CAHUITA NATIONAL PARK BEACH (Included in your package), Jaguar and Wildlife rescue center ($35), DOLPHIN WATCHING IN MANZANILLO ($50), SHAMAN MEDICINAL TALK & CONSULTATION ($30), CAHUITA BUTTERFLY GARDEN ($10), PACUARE WHITE WATER RAFTING ($95), BOCUARE JUNGLE ADVENTURE TOUR ($50), HORSEBACK RIDING AT THE BEACH ($45 minimum fee, for 2 hours), KAYAKING IN CAHUITA NATIONAL PARK ($35 for 3 hours), WATERFALL TREKKING ($45), RAIN FOREST CANOPY (ZIP LINE) ADVENTURE ($65), SURFING LESSONS ($60 for 2 hours). Just so you know . . . since we are in the rainforest, even though this is the dry season, we may see some rain. Also, rainforests have mosquitoes, so remember that what you resist persists! We can practice non attachment and non aversion, while visualizing bug-free surroundings and glorious sunshine! Last year we had virtually no bugs and lots of sunshine.