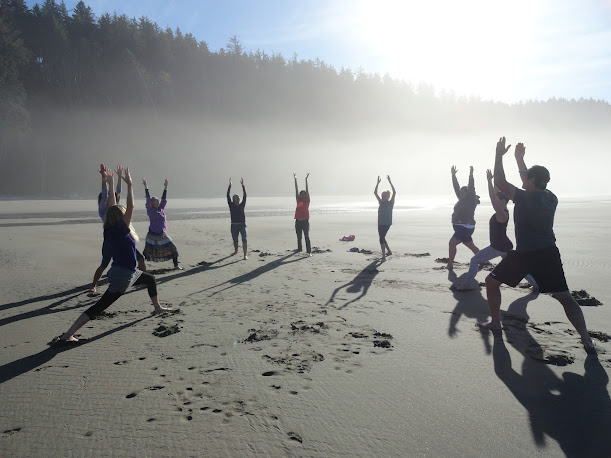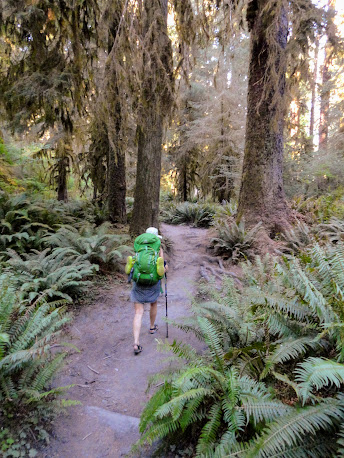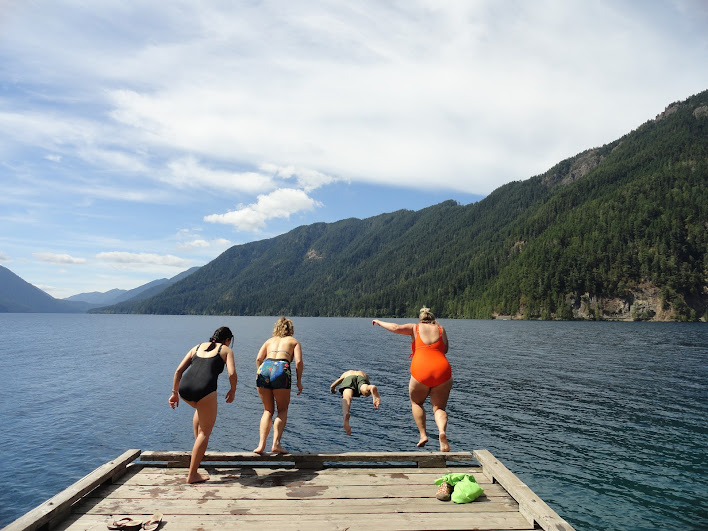 Olympic National Park!
Yoga, Meditation, Hiking, Camping, Backpacking
August 11-17, 2024
$1,111 all inclusive
"I've always wanted to backpack but didn't know where to start. Combined with car camping, hiking and yoga, this was a great combination. The overall feeling is one of feeling grounded. 
Roy and Liz are excellent guides and made the retreat an incredible experience. Between the logistics planning, food prep, destinations and yogic focus, they really knocked it out of the park

.

"
What Will We do?
Liz and I are happy to offer this amazing annual Olympic National Park adventure for the sixth time. Our first trips in 2018, 2019, 2021, 2022 and 2023 were amazing, so much beauty! Trip includes virtually all meals (about 16), park permits, campsites, guided hiking, backpacking, meditations (walking and sitting), forest bathing (soaking up prana from the rainforest), beach yoga, river yoga, yoga in a studio (in Pt Angeles), one night in a comfy lakeside hotel, swimming and community. We will visit some of the most beautiful beaches, forests and mountains in the world.
Who should attend? 
This is a unique trip, with yoga, meditation, hiking and backpacking. What is the difference between hiking, car camping and backpacking? We do some short hikes without packs, as well as two nights car camping in a campground, with bathrooms available, and with our vehicles. Backpacking is more challenging, leaving the cars and crowds behind and carrying our food and overnight equipment (backpack, tent, sleeping back, pad, etc.) on our back. Though these backpack trips are not very long or steep (3-5 miles max per day), this is not for everyone.
NOTE: We generally request a ZOOM meeting to meet you and discern if you are a good fit for this trip. While the backpack hikes are not long (under 5 miles a day), we have found that some people are just not suited for this type of trip. We also need to assure that you are community minded, and can carry your share of the gear. And we want to help you find the right gear. (We have gear to rent; see below).
SNORING NOTE: Due to the unique aspects of this trip (both camping and lodging), we have found by experience that loud snorers might need their own room or campsite. We need to be mindful of our other campers and room mates. If you do snore and really want to attend, we may have to ask for an additional $100 to cover a private room (for our hotel night) and extra campsite. Let's talk; we usually find a way to make it work.
What is Forest Bathing?
This is the healing way of soaking up the rainforest prana, chi or life force energy, with the negative ions (the good ones!). In Japan it is called Shinrin-yoku Forest Therapy, the medicine of simply being in the forest. Shinrin-yoku is a term that means "taking in the forest atmosphere" or "forest bathing." It was developed in Japan during the 1980s and has become a cornerstone of preventive health care in Japanese medicine. But of course, it is not limited to Japan, as we have some of the most amazing ancient old growth rainforests in the world.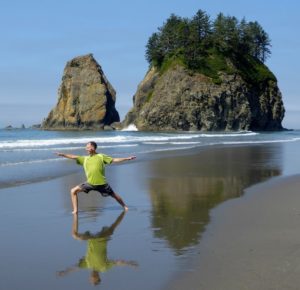 Why Olympic National Park?
Quite honestly, the Olympic National Park is my (Roy) favorite place on Earth. I am not exaggerating. I have had a passion for the Olympics since the first time I visited back in 1996. I have travelled and backpacked all over the world, but there is something about the Olympics, with its old growth rainforests, stunning beaches, alpine meadows, majestic mountains, river valleys and amazing wildlife that stirs the soul. So, we decided to combine the inner with the outer, the hiking with the meditation, the forest bathing and the yoga, the community with the solitude, and it has been an awesome combo.
Cost & What is Included
$1,111 for the 6 night, 7 day trip includes five nights camping (two car camp and three backcountry backpacking), one hotel night at a comfy hotel near Lake Quinault, about 15 healthy, love-cooked meals (to your dietary needs, if not too complicated), camp cooks and fuel, guided yoga and meditation, Sol Duc hot springs entry, and all park passes and permits. Extra costs:  optional meal out, gas and ferry costs (shared). Note: Transport is not included, but we usually have enough local drivers participating, but there is a chance that some of you will need to rent or borrow a car, as we travel around the entire Olympic Peninsula to visit all the coolest places.
IMPORTANT: Each member of the group must be willing and able to carry your own backpack, tent, sleeping bag and pad, water, clothes, and personal items. In addition, each person will be asked to carry about 3 pounds of community gear (food, fuel, filter, etc.) on the overnight backpacks. We will have a ZOOM video call to discuss all details regarding gear and what to bring.
GEAR AVAILABLE TO RENT:
Backpack ($20): We have a couple backpacks (two ultralight, small-medium size, and two bigger pack, size medium).
Tent ($20): We have a couple fairly small one person, older tents (under 3 pounds), and a new one, 4 pounds.
Sleeping bag ($20): I have a couple comfortable, newer bags, about 3 pounds each.
Sleep pad ($10): I have a couple inflatable (comfy, but must be careful not to puncture, which puts you flat on the ground!). I also have a couple foam pads, not as comfy, but no risk of leaking.
Hiking poles ($10): I have a couple sets of hiking poles. Sticks also work. Note: This trip does not have a lot of elevation gain, so it is not to hard on the knees and poles are totally optional, not necessary for many people.
Note: Due to the special aspects of this trip, we will only take about 10 people, so please do not delay signing up
"What a fun week with good people.  Thank you to you and Liz for sharing such a beautiful place."

Theme of Trip
We will weave a theme of "Being your Authentic Self.". We will explore returning to our true nature and living a life of truth and authenticity.
What else is there to know about this trip?
Liz and Roy have visited the Olympics for the last twenty five years, and know some of the best places to visit, many of which are well known, some lesser known. We will be traveling one way counter clockwise around the Olympic Peninsula, starting in Pt Angeles, finishing at Quinault Lake. See below for the itinerary. We will include car camping, back country (forest and beach) camping, yoga (in studio and beach), meditation walks, some meals (camp cooking). We will soak in the Sol Duc natural healing pools, and visit the Sol Duc waterfall. We will drive up to the amazing Hurricane Ridge for a stunning view of the Olympics and Mt. Olympus. We will visit one of the world's biggest Cedar and Spruce trees.
Side-note on Car pooling, Gear sharing, Alcohol:
We will need a couple of you to drive, and others will kick in for gas and ferries. NO SOLO DRIVERS, as there is limited parking at trailheads. To better understand, we ideally arrange car pooling from Seattle area, and then all the cars meet in Pt Angeles Sunday. We drive to various areas each day, working our way counterclockwise around the Olympic Peninsula, driving an hour or so each day, then hiking and playing and spending the night, then finishing in Quinault area at a beautiful lakeside lodge (with actual beds and showers!), kayaks available (included in price) and then continue counter clockwise back to Seattle via Olympia and Tacoma. In other words, we do not return to Pt. Angeles.
To maintain a sacred and safe space, we ask that we refrain from alcohol at camps, but you are welcome to consume alcohol in moderation when we dine out (there will be a couple meals eaten out). This way we keep the camp space clear for meditation and deeper connection. We have found that this balance works for maintaining a yogic environment and the holding of intention for healing, awakening and breaking habitual patterns.
We will discuss details on gear, how to pack your pack, etc.
Payment and Refund Policy
It may be advisable to purchase Travel Cancelation insurance, as there is much uncertainty and change these days (you may have noticed!). We request a $500 deposit, balance due 30 days prior to trip–when possible.  Note:  Deposit is generally nonrefundable. 3/4 of later payment may be refunded if you cancel > 30 days prior to trip, 1/2 refund if you cancel 15 – 30 days prior to trip (depending on retreat center refund policy), no refund under 15 days prior to trip–unless I can get some money back from hotels and retreat center.  Note: In these wild, COVID times, we do our best to expand our refund policy, being fair to all involved.
What to Bring: 
We will discuss this in detail later, but some things to keep in mind: Three nights will be short backpack trips. Although relatively short and easy–about three to four miles one way each–everyone should have access to the proper gear (we can guide you what to bring, buy or borrow). You will need a backpack, sleeping bag, tent (you can share with someone), sleeping foam or blow up pad, hiking boots or shoes or even good sandals. You will not need to bring a stove, fuel, water filter, or first aid kit, unless you prefer your own gear.
Gear rental: We now have a fair amount of gear to rent ($20 per item unless marked otherwise): backpack, tent, sleeping bag, sleeping pad ($10), hiking poles ($10), and possibly more.
"Roy and Liz provided a unique and spectacular retreat on the Olympic Peninsula! They cooked delicious meals and shared a "locals" experience amongst the most beautiful nature on the continent.  They were very helpful  teaching us the basics of backpacking and how to camp gently in the rainforest. We especially enjoyed the yoga and meditation sessions surrounded by giant trees and along side ocean waves. We saw whales and eagles and small forest creatures. Roy's retreats have always been fantastic, but this retreat is now my favorite!!"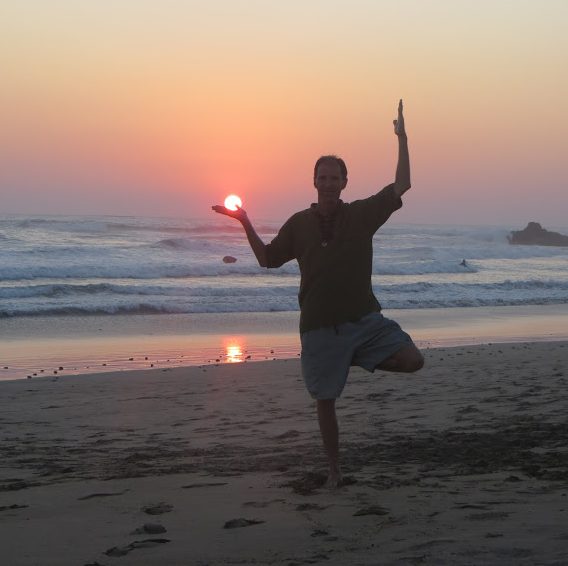 "I had so much fun on this trip.  Thanks for the memories and the friendship."
Itinerary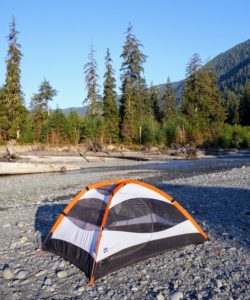 Day One: Sunday: Drive to Pt. Angeles area of the Olympic Peninsula.  Arrive around 2:00pm, and camp at beautiful Heart of the Hills Campground, near Hurricane Ridge. Afternoon meditation walk in old growth forest. Dinner at camp. Drive to Hurricane Ridge for sunset short hike, views, and wildlife seeing and photography.
Meals included: dinner 
Day Two: Camp Breakfast.  Yoga at local yoga studio in Pt Angeles. Drive west to Lake Crescent Lodge for picnic lunch, possible swim (amazing high vibration, clear lake water!). Short old growth hike to Marymere Falls. Continue west to Sol Duc campsite. Hot soak at natural mineral springs of Sol Duc. Dinner at camp.
Meals included: breakfast, lunch & dinner 
Day Three: Short hike to beautiful Sol Duc Falls, then camp breakfast. Visit gorgeous river spot, possible cold water plunge! Continue west to incredible beaches of Olympic National Park. Lunch enroute (included). We will then hike 2 miles to a stunningly beautiful Beach. This will be a day of meandering, exploring. Beach yoga. Amazing sunset. Dinner.
Meals included: Breakfast and dinner
Day Four: Morning beach yoga. Breakfast. Hike beach back to cars. From beach, we head back inland, then stop for picnic at Bogachiel State Park. Then drive into Olympic National Park's Hoh River area, one of most beautiful old growth rainforests in the world. We will visit the Hoh visitor center, then backpack in three miles and camp along the Hoh River. Evening meditation walk in the river valley. Camp dinner.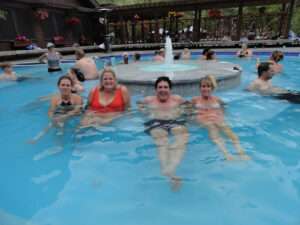 Meals included: Breakfast, lunch and dinner
Day Five: Camp Breakfast. Gentle riverside yoga. This is a relaxing, rejuvenating Forest Bathing day. We will take a travel break and hang out in the rainforest, with optional meditation hikes (without heavy packs!) deeper into the rainforest to soak up the great energy, perhaps see elk or other wildlife. Maybe take a splash or swim in the Hoh river. Seated riverside meditation and yoga. Restful sleep by the river under the ancient rainforest trees.
Meals included: B-fast, lunch and dinner
Day Six: Camp Breakfast. Gentle riverside yoga. We hike out of the Hoh, drive west back towards the coast, then s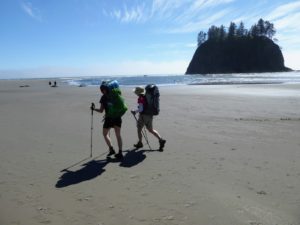 outh, and stop to visit one of the most beautiful, ancient red cedar trees in the world. Then picnic lunch along the beach. We continue south to the Quinault area.  We will go for some comfort and stay right on the shore of Quinault Lake at the Quinault River Inn, ahhhhhh.  After cleaning up, we take a short walk to see the biggest Sitka Spruce in the world, and visit the historic Quinault Lodge, perhaps take a swim from their beautiful lake beach. Maybe eat out.
Meals included: Breakfast, lunch.
Day Seven: Gentle, standing yoga on patio overlooking lake Quinault, closing ceremony, breakfast, half mile rainforest loop hike, then depart for home.
Meals included: Breakfast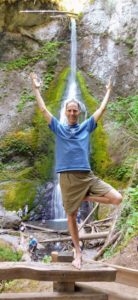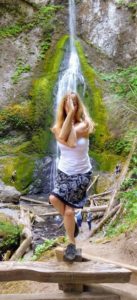 Your Guides: Roy Holman and Liz Gross. Roy has been teaching yoga and meditation for over 20 years, and has led hikes globally and in the Pacific Northwest with the Mountaineers, and professionally with Lynnwood and Edmonds Parks Department. Liz Gross also teaches yoga and meditation and is a gifted energy healer. Her website is Here
COVID NOTE: This trip is almost entirely outdoors in nature. We will do our best to stay safe. With all the polarity and division, in the Spirit of Yoga (union) we will NOT be adding to it by discriminating between masked or unmasked, vaxed or unvaxed, etc. We trust one another to take care of one's self and the group. All welcome!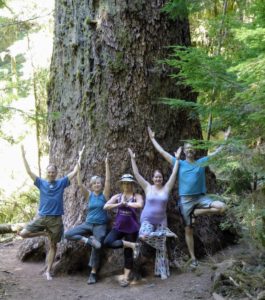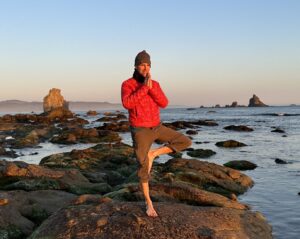 "Glorious intoxication of the soul is the reward of all who seek it in the bosom of Nature."