Sedona Arizona Yoga Hiking Healing Retreat
October 8-14, 2017 or October 15-21, 2017
Space available October 8-14 trip. Oct 15-21 trip may be full
Come restore, rediscover and rejuvenate your healthiest, highest Self!
Sacred Sedona
Come experience the sacred energy and wonderful beauty of Sedona, Arizona. The two retreat options will run Sunday, October 8 to Saturday, Oct 14, or Sunday, October 15 to Saturday, Oct 21, 2017. Prices vary, starting at $900 per person and up to $1,200, depending on the room. Price includes 6 nights beautiful accommodations at the beautiful MoonDance Retreat Center, daily healthy, bountiful Breakfasts, one dinner, guided hikes and other trips, shuttle from and to Phoenix Sky Harbor Airport, and shuttle to all hikes.
"The yoga, the hiking, the people; this was my best vacation ever."
Roger, from 2012 Sedona retreat
Theme: Play, Rest and Joy
Any of you so busy that you do not rest enough, play enough, or experience enough joy in your life? Welcome to the human reality! This pattern of working too hard and struggling and striving is not innate or fixed in stone, so come experience six days of playing, laughing, hiking, stretching, breathing deeply, soaking up sun, swimming, eating mindfully and remembering who you are and what is important.

Price includes
Sedona Yoga retreat includes daily awesome, healthy breakfasts, daily yoga, healing workshops, daily guided hikes, special sacred vortex sites, shuttles to and from airport (if you can meet us at airport by 11am Sunday), and to trail heads. No worries if you do not have a room-mate, we will find you someone compatible. We also have a few single rooms reasonably priced. We will be staying right in the heart of Sedona, Arizona, close to a vortex, with great views from our hotel.
Teachers and Hike Guides
Roy Holman and Liz Gross will teach the yoga and lead the hikes and other activities. Roy has led over 50 retreats in Washington, Mexico, Guatemala, Hawaii, Bali, and Costa Rica. This will be our seventh retreat in Sedona, so we know the best hikes, vortexes, sites and restaurants! Roy is trained at the 500 hour level in Viniyoga, a breath-connected, body-friendly, heart centered, meditative flow yoga. This retreat is suitable for all yoga and hiking levels. Liz Gross is a yoga teacher and vibrational energy healer and outstanding cool!
Deluxe Accommodations in Sedona
Our host hotel is awesome. Trip Adviser raves about it. Great spacious rooms, swimming pool, great views, wonderful setting, amazing breakfasts, and beautiful yoga space. Moondance click here
What We will Do during yoga retreat
At least one daily yoga class (sunrise), some vortex visits and  meditations, healing workshops, several hikes, and other activities. We expect to have about 12-15 people attend. All classes, hikes, and activities are optional. This is a great time of year, not too hot, and cool at night. Note: Please contact me before you book your flights, for details. Some folks choose to arrive early or leave late, which is fine. Otherwise we will meet at the Phoenix airport Sunday morning and I will have a rented van waiting. Please arrive by 11am if you plan to ride with us Sunday, and plan to fly home no earlier than 2 pm on Saturday, again, only if you want to ride with us. I cannot cover costs of separate transport, only with van. Separate shuttle is about $60.
Meals
Bountiful freshly made breakfasts (according to your food needs) are included daily after yoga. We shop at a local natural foods store for our lunch fixings, which we keep at the hotel to take on hikes. Then we usually dine out, or you can save money and cook at the retreat center. As this is our 7th year in Sedona, we know the best places to eat, usually one night Thai, one night Mexican, one night excellent Health food, etc …..
General Day by Day Itinerary of Trip
Note: All classes, hikes, activities are optional of course. Rest when you need rest.
Day 1: Meet in Phoenix for shuttle van ride to Sedona (or meet us in Sedona). Afternoon Doe Mt 3 mile hike and out to dinner.
Day 2: Morning yoga. B-fast, Fay Canyon easy 3 mile hike. Natural Foods store for grocery shopping. Out to dinner.
Day 3:  B-fast, Bell Rock Vortex hike, 3 miles. Visit amazing Cathedral. Afternoon yoga, Amitabha Peace Park Stupa, out to dinner.
Day 4: Meditation option. Morning yoga, B-fast, Playshop on Healing, hike on Little Horse Trail  up to Chicken Point. Out to dinner.
Day 5: B-fast, then hike  Airport Loop Vortex trail, souvenir shopping at Crystal Magic and Native Art Store, out to dinner.
Day 6: Meditation option. Morning yoga, B-fast, Cathedral Rock Vortex hike, out to dinner. closing ceremony and out to dinner.
Day 7: Morning yoga, B-fast, shuttle to airport (or your own transport)
Note: Please let us know if you already have a room mate you wish to share with. Please note that we will do our best to honor your request for single, double or triple as we arrange the rooms.
Checks ($300 deposit or entire amount) can be sent with REGISTRATION to: Roy Holman, 1917 Rockefeller Ave, Everett, WA 98201
Or you may pay securely online via PayPal:
Make a deposit of $300:
Pay approximate full amount of $950: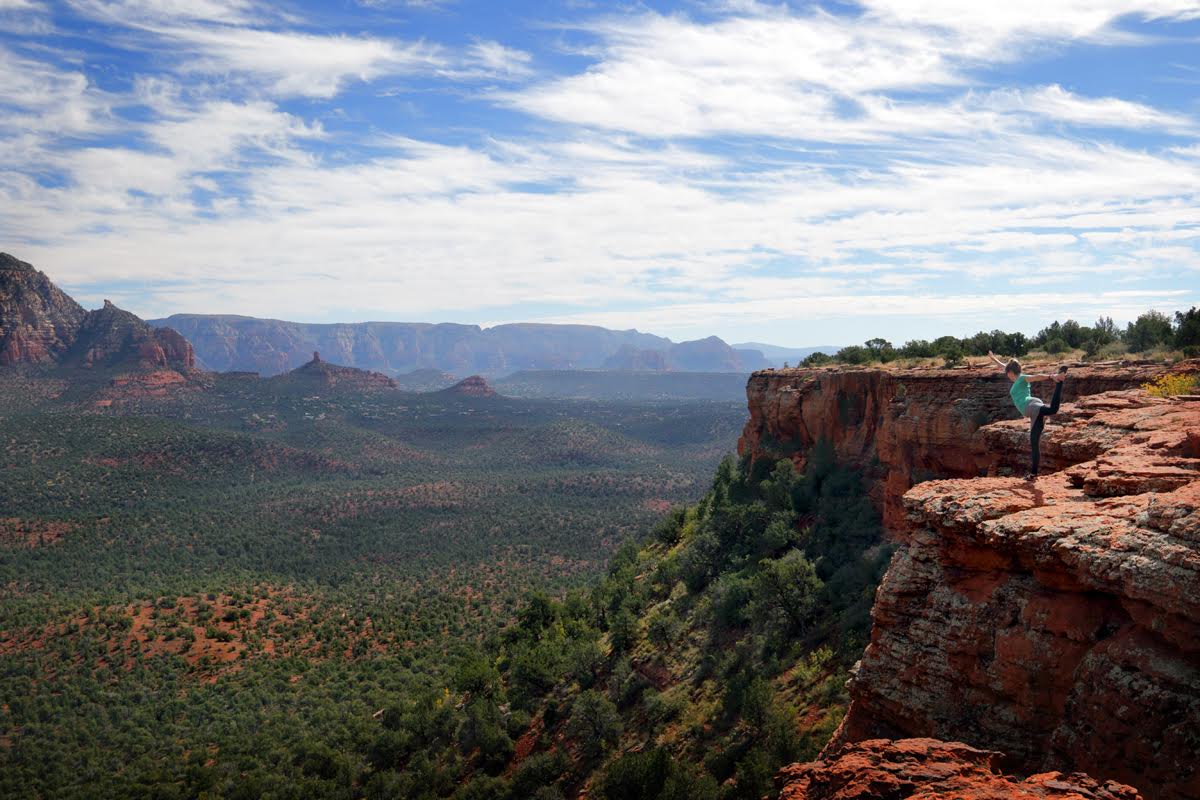 A good traveler has no fixed plans, and is not intent on arriving.

Lao Tzu
Yoga Retreat Sedona Arizona
Our theme this week will be aligning with our true nature, attuning to the higher frequencies of joy and compassion.
Starts: 10/15/2017
Duration: