Costa Rica Yoga Retreat
March 8-17, 2019 (dates not yet certain)
at the Goddess Garden in the Caribbean Rainforest
Per person prices: $1,595 double, $1,495 triple and $1,395 dorm
"Journeys bring power and love back into you."   Rumi
I loved the seven days: the sunshine, ocean and pool swimming, lunch in the seaside restaurant, the daily yoga and meditation, the camaraderie, the incredibly beautiful jungle.
Louisa, Canada


Yoga in Rainforest Prana Paradise
Goddess Garden Eco-Retreat sits right in the middle of an old growth Caribbean rain forest! Price of $1,495 (triple) or $1,595 (double) includes 9 nights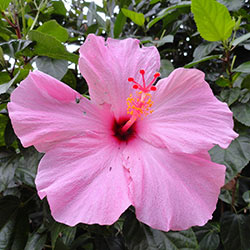 hotel, all meals for the 9 day trip, Costa Rica ground transport, all classes and workshops, & National Park trip. The Goddess Garden Hotel is a 5 minute walk to the beach.
Pura vida!
Come visit the lush, wild, and wonderful Caribbean side of Costa Rica. After three years on the Pacific coast, we moved our yoga retreat to the less touristy Caribbean side. We hold our yoga retreat at the beautiful Goddess Garden (see below), but we will also have a relaxing first and last night of the trip at the lovely Adventure Inn, about 10 minutes from San Jose airport.
Calendar / Itinerary
Day 1: The first night will in San Jose at the Adventure Inn. They also pick you up at the airport.
Day 2: We eat breakfast and then our shuttle drives us through the jungle over to the Caribbean and the Goddess Garden, where we spend 7 nights, with all meals included.
Days 3 to 8:Morning and / or afternoon yoga with Roy or Liz, then various options. One day will be a trip to beautiful Cahuita National Park (included in your price) for hike, swim, wildlife. Many other options during the week (Zip line tour, horse ride, sloth sanctuary, surfing, and a tour of local beaches).
Day 9: After yoga and breakfast we take our shuttle back to the A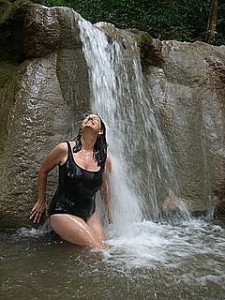 dventure Inn for our last night in San Jose. The hotel will drop you off at the airport for your flight on March 27th.
Goddess Garden Rain forest Retreat Center
This will be our home for 7 of the 9 nights. Goddess Garden's room, swimming pool and restaurant all sit within this old growth rainforest–and there are more frogs than bugs! The biggest tree in the area, a 340 year old "Sangrillo," grows within sight of the yoga facility, where we will see monkeys and sloths right from where we do our yoga. There is also another nice yoga deck, a pristine swimming pool, and very nice, good sized rooms with private baths. The place where we eat is elevated, also sitting right in the middle of the rain forest, where the prana is very healing. The Caribbean beach is only a five minute walk away, and the town of Cahuita sits three miles south of the Goddess Garden.
Meals
Goddess Garden has amazing and healthy food! Virtually all your meals for the trip are included: 3 meals daily at Goddess Garden, breakfast at the other hotel, lunch en route, and a special dinner out. Mostly vegetarian.
Theme
Compassion will be our theme for this retreat. Compassion includes acceptance of self, others, and life situations.  Compassion moves us out of resistance and suffering to joy and love.
Yoga
Heart centered, body-friendly, breath connected yoga for every body. Please see details on the style of yoga on instructor page. morning and late afternoon classes each day, with other playshops.
Activities and Schedule
March is a good time of year weather wise. We have morning and / or sunset yoga, healing workshops, swimming (ocean or pool), hikes, wildlife sighting and photography, snorkeling, and other options such as zip line ride, indigenous village visit, sloth sanctuary visit, massage (great massage!), kayaking, and much more.
Wildlife
We will probably see howler monkeys, white face monkeys, two toed and three toed sloths, various colorful frogs, morpho butterflies, coatimundi, toucans, iguana, parrots, and other amazing birds and critters.
Airport in Costa Rica: fly in and out of San Jose
"Wonderful, helpful, compassionate teachers, excellent location. A fun week with great people at a great price."
Brenda C, Seattle
Teacher and Guides
Click here for info on our instructors and guides. Costa Rica 2013 Retreat Video (4 minutes): Click Here Costa Rica Retreat Photos : pictures from our past retreats. The prices below include 9 nights hotel, all meals for the 8 days (3 meals a day at the Goddess Garden, breakfast at the Adventure Inn, and, two additional meals out), taxis and shuttles to and from the airport, and to the Goddess Garden, and a Cahuita National Park hike and beach day. Yoga retreat prices are as follows (per person):
Dorm room (6 max) – $1,395
Single room – $1,995 (if available)
Note:  Please let me know if you wish me to help you purchase your flights for you (no extra fee). If you do your own, plan to arrive in Sam Jose by Friday afternoon or evening, March 16, in SAN JOSE, and most of us will fly out Sunday morning, March 25.
Some of the extra activity options

(prices are per person, and may vary slightly): SNORKLING IN CAHUITA ($30), MANZANILLO BEACH & WILDLIFE RESERVE ($35), CAHUITA NATIONAL PARK BEACH (Included in your package), AVIARIOS DEL CARIBE -SLOTH CENTER ($25), DOLPHIN WATCHING IN MANZANILLO ($50), SHAMAN MEDICINAL TALK & CONSULTATION ($30), CAHUITA BUTTERFLY GARDEN ($10), PACUARE WHITE WATER RAFTING ($95), BOCUARE JUNGLE ADVENTURE TOUR ($50), HORSEBACK RIDING AT THE BEACH ($45 minimum fee, for 2 hours), KAYAKING IN CAHUITA NATIONAL PARK ($35 for 3 hours), WATERFALL TREKKING ($45), RAIN FOREST CANOPY (ZIP LINE) ADVENTURE ($65), SURFING LESSONS ($60 for 2 hours), YORKIN INDIGENOUS RESERVE ($55), TREE OF LIFE WILDLIFE RESERVE ($12). Just so you know . . . since we are in the rainforest, even though this is the dry season, we may see some rain. Also, rainforests have mosquitoes, so remember that what you resist persists! We can practice non attachment and non aversion, while visualizing bug-free surroundings and glorious sunshine! Last year we had virtually no bugs and lots of sunshine.