Forest and Beach Bathing
Olympic National Park!
Yoga, Meditation, Hiking, Camping
August 5-10, 2018
"I only went out for a walk and finally concluded to stay out until sundown: for going out, I found, was really going in."
John Muir
Liz and I are thrilled to offer this amazing Olympic National Park adventure for the first time.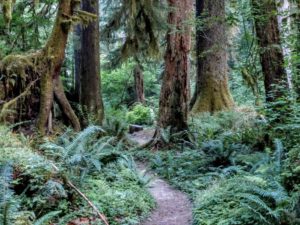 Why Olympic National Park?
Quite honestly, the Olympic National Park is my (Roy) favorite place on Earth. I am not exaggerating. I have had a passion for the Olympics since the first time I visited. I have travelled and backpacked all over the world, but there is something about the Olympics, with its old growth rainforests, stunning beaches, alpine meadows, river valleys and amazing wildlife that stirs my soul. So, we decided to combine the inner with the outer, the hiking with the meditation, the forest bathing and the yoga, the community with the solitude, and it will be awesome.
Cost
We still need to finish putting this together. The Parks Service is talking about raising its prices, which is one variable. And we have to decide if we want to stay in a hotel our final night, or camp again, and how many meals to eat out. So, I will have the price set around January 1, but I am guessing about $795 for the 5 night trip.

What is included in this trip?
I have visited the Olympics for the last twenty years, and know some of the best places to visit, many which are well known, some lesser known. See below for the itinerary. We will include car camping, back country (forest and beach) camping, yoga (in studio and beach), meditation walks, some meals (camp cooking, as well as eating out). Price includes all campsites, park passes, back country permits, and about half the meals.
What to Bring: 
We will discuss this in detail later, but some things to keep in mind: Two nights will be backpack trips. Although relatively short and easy–about two miles one way each–one should have access to the proper gear (we can guide you what to buy or borrow). You will need a backpack, sleeping bag, tent (you can share with someone), sleeping foam or blow up pad, hiking boots or shoes or even sandals.
Itinerary (tentative)
Day One: Sunday, August 5: Drive to Pt. Angeles area of the Olympic Peninsula. Short hike on Dungeness Spit on beach. Camp at Heart of the Hills, near Hurricane Ridge. Afternoon hike in old growth forest. Dinner at camp. Drive to Hurricane Ridge for sunset.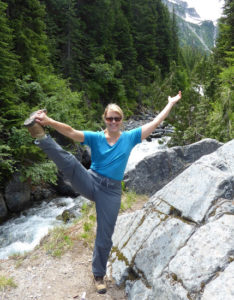 Day Two: Camp Breakfast. Silent Meditation Walk. Yoga at studio in Pt Angeles. Drive west to Marymere Falls, short hike, lunch at Crescent Lodge on Crescent Lake (possible swim!). Continue west to Sol Duc campsite. Hot soak at natural mineral springs of Sol Duc. Sunset short hike to Sol Duc Falls, dinner at camp.
Day Three: Continue west to incredible beaches of Olympic National Park. We will hike 1-2 miles to Third Beach. This will be a day of meandering, exploring. Beach yoga. Dinner.
Day Four: Morning beach yoga. Breakfast. From beach, we head back inland, then drive back into Olympic National Park's Hoh River area. We will visit the Hoh visitor center, then backpack in about two miles (option to go less or more) and camp along the Hoh River. We often see elk here. This is day or meditation walks in the river valley. Camp dinner.
Day Five: We hike out of the Hoh, drive west back towards the coast, and stop at the Kalaloch Lodge for a delicious lunch and tea or coffee, with an ocean view! We continue south, stopping to see some of the biggest red cedars in the world, then visit the Quinalt area, taking a short walk to see the biggest Sitka Spruce in the world. We will either camp out our final night, or go for luxury and stay at the historic Quinalt Lodge. Old growth forest nature walk. Eat out at lodge for dinner.
Day Six: Breakfast at Quinalt Lodge, then drive back home.
More details
on this trip
coming soon!
"Glorious intoxication of the soul is the reward of all who seek it in the bosom of Nature."
Kahil Gibran