Frog Creek Lodge
Health, Healing & Wellness Retreat
Yoga, Meditation, Nutrition, Healing, 
Meandering, Swimming, Soaking
Theme: Earth & Sky
 June 26-30, 2024
Price includes:
♥  Two teachers to support you for your healing retreat
♥  Comfortable accommodations with various options
♥  Nature paths to wander
♥  Three healthy, organic, delicious meals a day
♥  Hot Tub Baths 
♥  Classes: Yoga, Meditation, Healing, Detox & Nutrition
♥  Visit local State Parks &  Beaches for hike and / or swim 
♥  Regular check-ins, meditations, and discussion groups
♥  Time to relax, rejuvenate, read, other healing options available ….
♥  Extra Healing Options
♥  Alcohol-free event please
Accommodations (4 nights):
Triple room (per person price): $950
This room has a bunk bed and one twin bed, shared bath. This is a good choice for three friends, or people traveling solo (we will find you room mates).
Double Private Room (per person price): 995
Two people sharing a room with two beds, shared bath. Either two friends or singles will be assigned an appropriate room mate.
Private Room with Queen bed for two people (couple): 995 each ($1,990 total)
Two people, shared bath.
Master Bedroom: (couple): 1,250 each ($2,500 total)
This is a nice room on the top floor with private bath, queen bed.
Single Room: (if available): $1,500
This is a nice room on the top floor with private bath, queen bed.
Private Tree House! (couple): 1,500 each ($3,000 total for two)
Special Frog Creek Treehouse include a lighted spiral staircase leading to the main deck with outdoor seating. The interior includes an electronic fireplace, wall heating units with thermostat, and a comfortable loveseat which unfolds into a twin bed. The breakfast area is equipped with plenty of countertop space, cabinets, microwave, electric cooking skillet, refrigerator, coffee maker, eating utensils and a dining bar with stools. An outdoor gas barbecue grill is also available for cooking. A custom spiral stairway leads to a bedroom loft with a queen-sized bed complete with lights and USB charging stations above the nightstands. The treehouse also includes a private enclosed bathroom with toilet, sink and shower.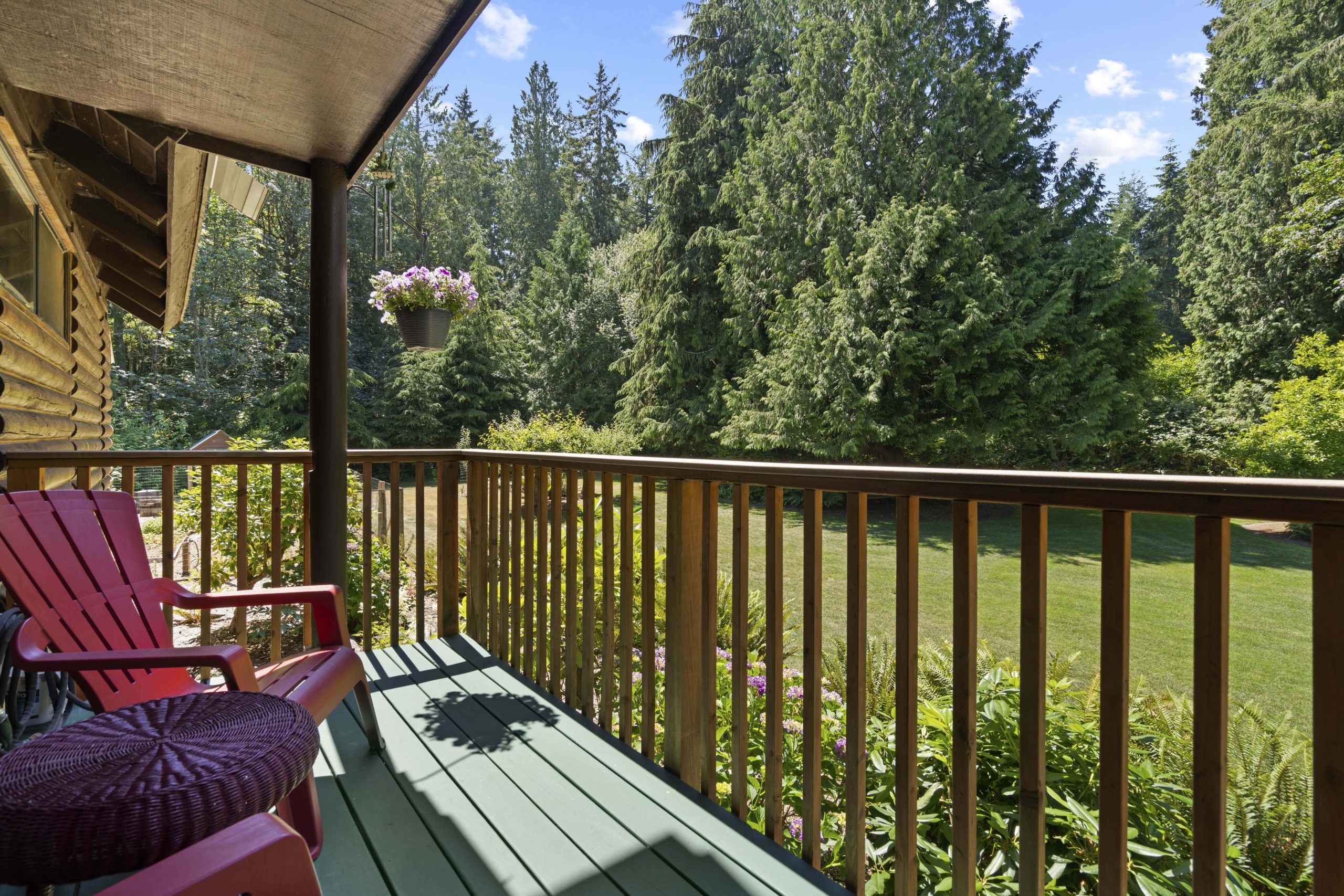 "I wanted to take a moment to express my deep gratitude for the past four days. I felt that each activity, meal, discussion and adventure was created with great care and intention. You set the tone for generosity, compassion and deep listening. You ensured that every comfort was surpassed, so that we could focus on reconnecting with ourselves and nature. 
My heart is so full. My perceptions are changed. This is a transformative gift that I will carry with me always. I am so grateful, is all I keep thinking."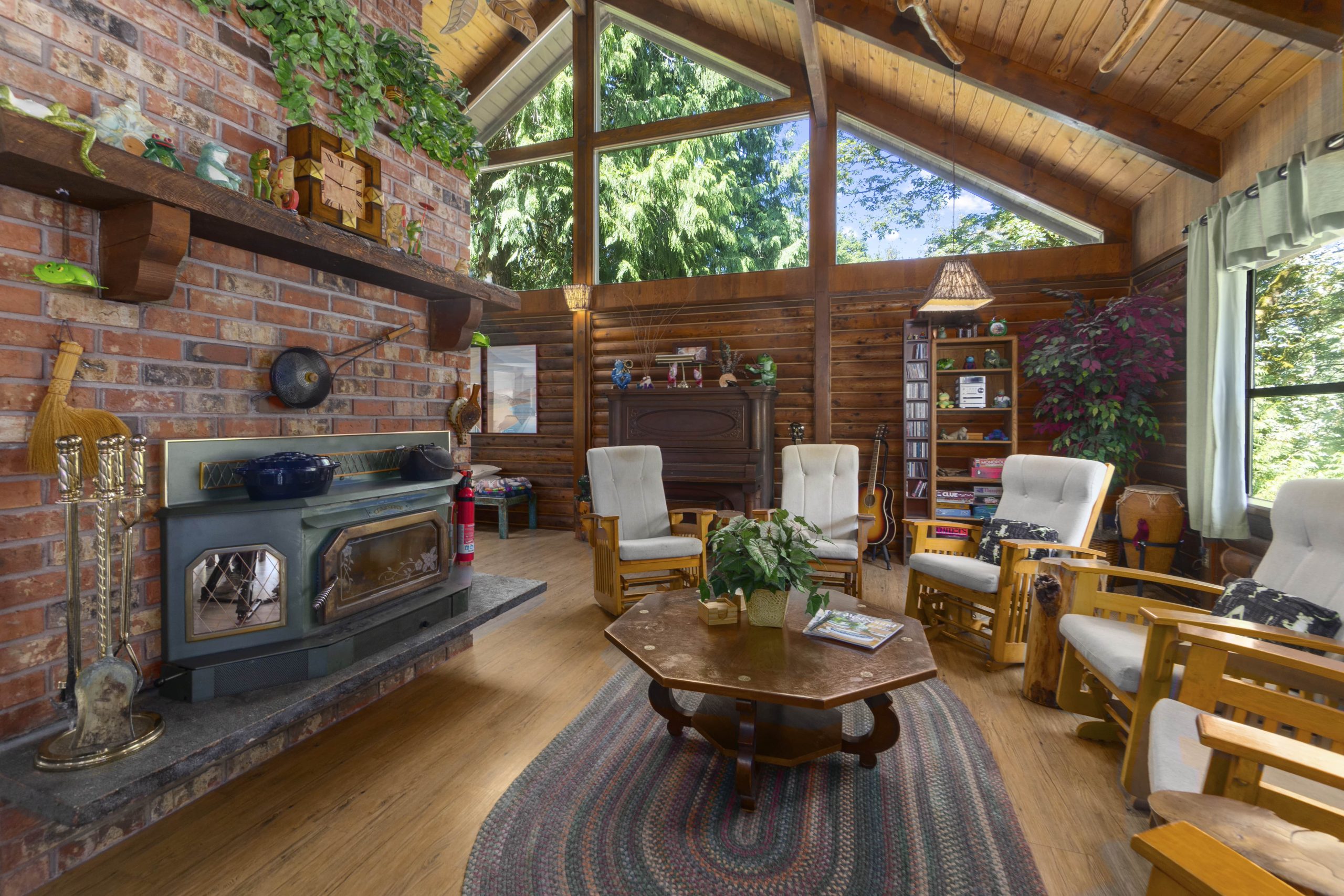 Why Frog Creek Lodge?
Frog Creek Lodge kinda popped into our awareness just recently, and it immediately felt like a good fit for a new venue here in Washington state. It has a nice nature setting, and not a far drive from most of us in the Puget Sound area. We like the accommodations and options. There is nature surrounding us, a nice kitchen, and some good local places to visit on the water. Prices were reasonable enough for us to keep the price affordable for most of us.
What will we do?
This retreat is a combo of soaking-meandering-relaxing, body movement, meditation, and profound health teachings & education. Frog Creek is an awesome spot to just hang out, slow down, and soak, walk, heal, detoxify, learn, rest and rejuvenate. To assist your healing, we will lead daily slow flow body movement and yoga classes, lead some prayerful meditations, teach a daily workshop (nutrition, detoxification, healing, cancer prevention, Divine Align, etc.), while still leaving time for being, breathing, walking the loacl trails or swimming and cold plunges.
We will also have some wonderful healing options: NeurOptimal Brain Training technology, Rapid Release (for clearing scar tissue and tight muscles) and Biopulsar readings (to see your real time chakra and aura ratings). Extra fee for these options.
Theme of Retreat: Balancing Earth and Sky
Liz and I are big on balance. We have noticed that some people are very "heady" or "spiritual" but often disembodied, ungrounded, not taking care of their body. And then there are those of us who are very earthbound, grounded yes, but not giving any thought or effort or energy into remembering who they are, where they came from, who God is, what Source is.
So in this retreat we will play with both: teaching and practicing healthy eating, nutrition, movement, hiking, while also practicing and teaching how to reconnect with and be guided by your higher self or Great Spirit or God or whatever you call Universal Intelligence and Source. We want you to walk away from this retreat more balance, rooted and anchored into this earth experience, but also aligning with your purpose and highest truth.
What about Food?
All meals are included, and we will do our best to cater to all needs: vegetarians, vegans, omnivores, dairy free, gluten free …. It is getting complicated! But we have experience and love food and love to make people happy. We will be preparing bountiful healthy breakfasts (eggs, oatmeal, granola, fruits, nuts, yogurt, coffee, tea, etc.) and a variety of lunch options and fixins, and a gourmet, healthy, delicious dinner each day. We will send you a registration form to let us know your needs.
Arrival and Transport
Frog Creek Lodge and Treehouse are located at 15003 64th St. NW, Lakebay, WA  98349.  Frog Creek is just outside of Gig Harbor, 60 miles from Downtown Seattle, 48 miles from Sea-Tac Airport and 25 miles from Tacoma.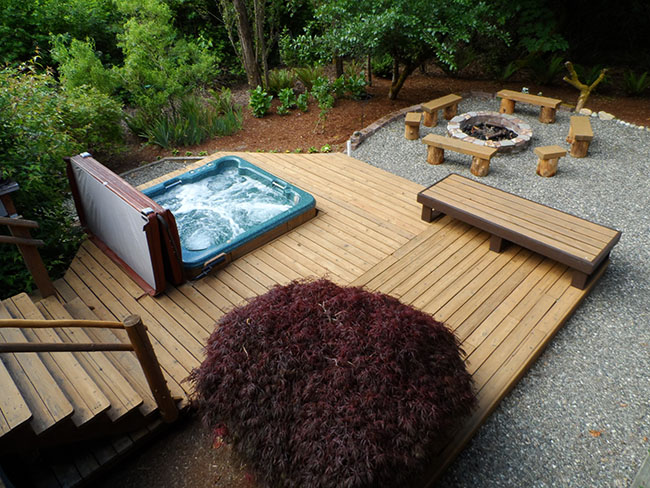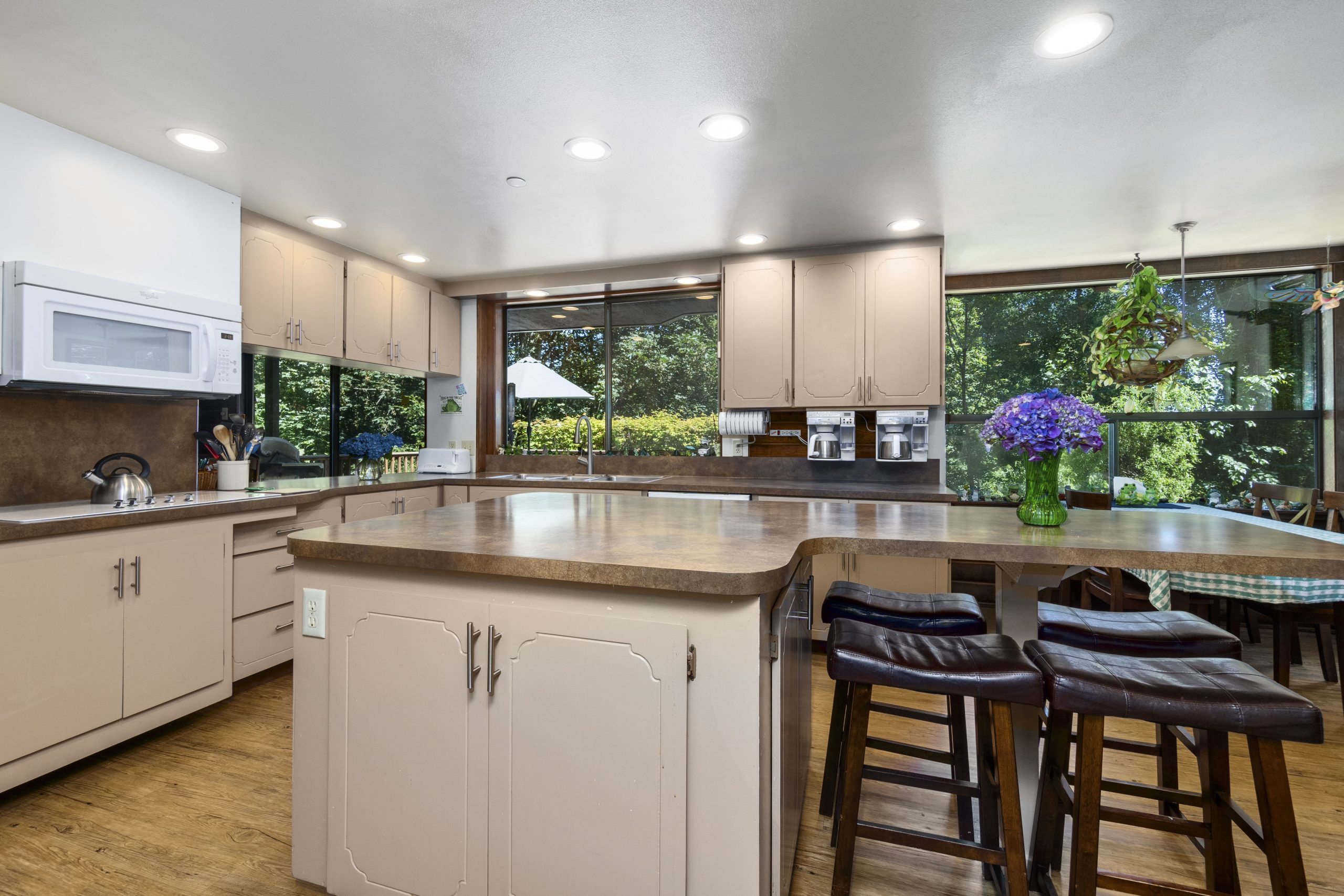 "I wanted to tell you thank you and let you know what a beautiful, wonderful, inspiring experience you gave me. My husband noticed something different about me and said I was zenned out. You and Liz are truly gifts. Thank you so much for sharing your kind souls with our group and with me."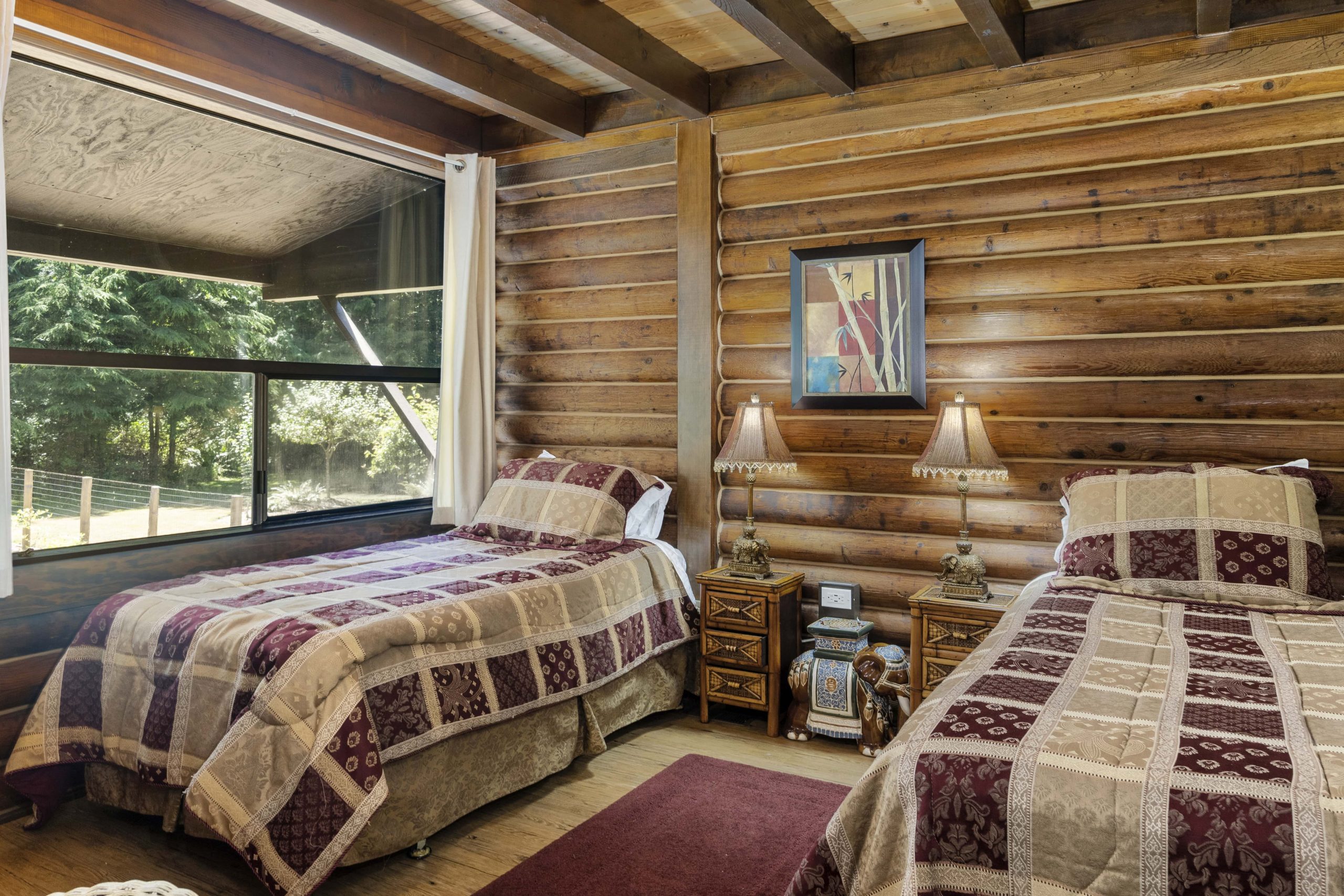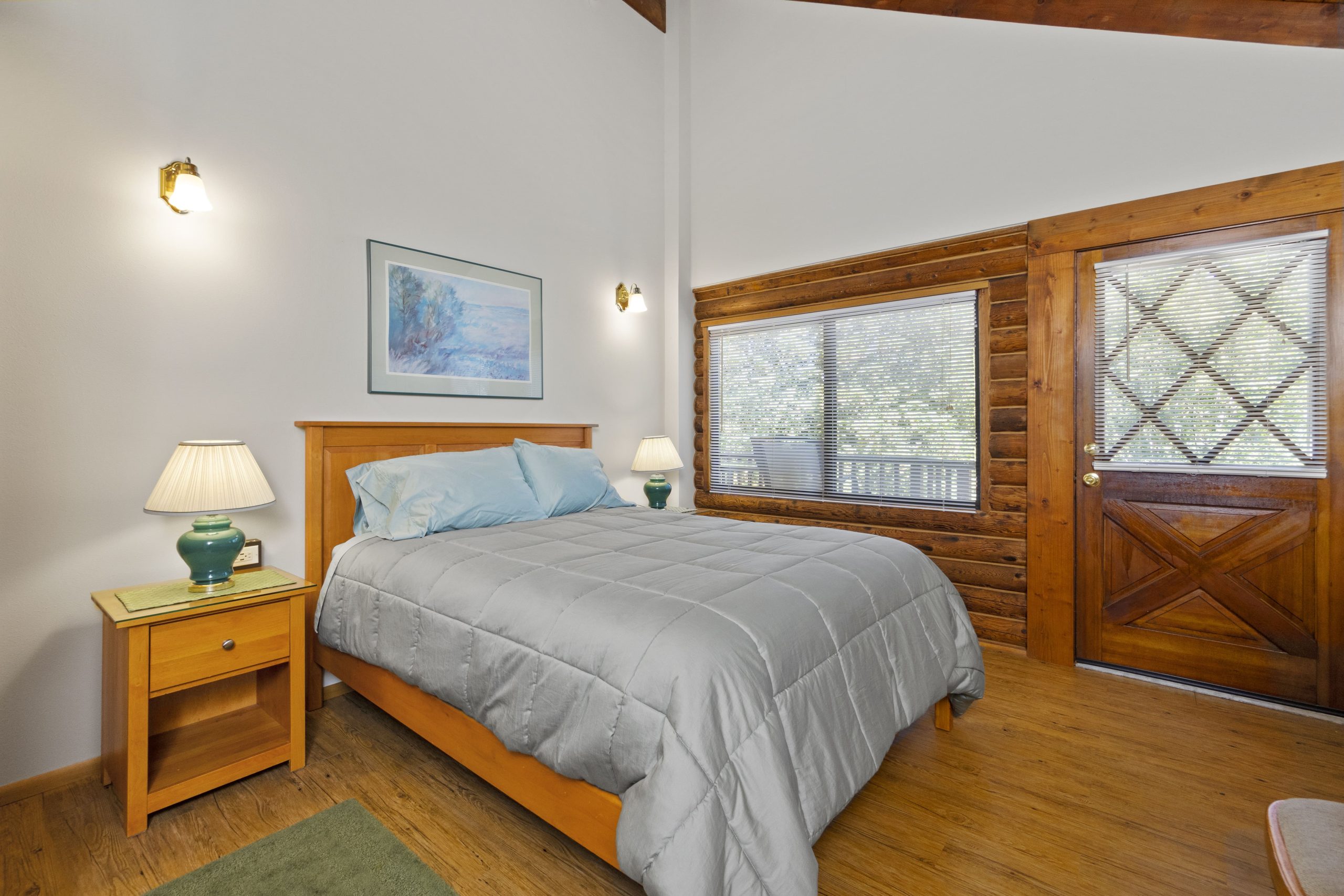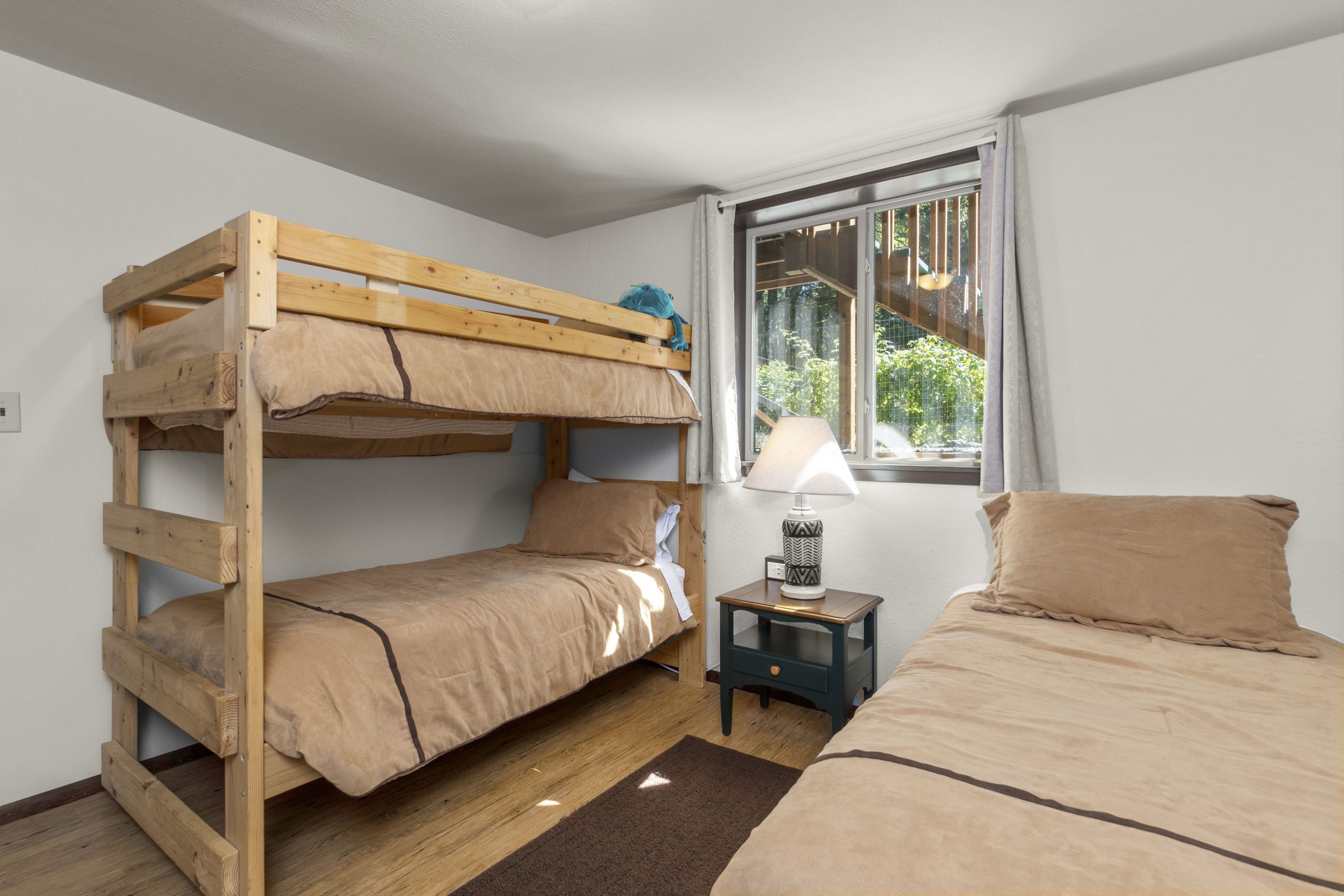 "Doing is never enough if you neglect being."
What does trip look like? What are the details?
Arrival: You may arrive anytime after 4pm the afternoon of Wednesday, June 26.
Wednesday: We will settle in for a short yoga class, an orientation, dinner, and soak or free time.
Thursday: Morning meditation, yoga, coffee or tea, Breakfast, workshop on health and healing, lunch break, afternoon walking meditation, then tips for aligning more with Divine Source / God. Dinner, free time.
Friday: Morning meditation and body movement, coffee or tea, then silent Breakfast, then drive to local nature spot for hike and possible swim. After lunch: Nutrition workshop, then dinner. Evening relax or soak.
Saturday: Morning coffee or tea, meditation, yoga, then Breakfast, morning workshop on natural healing and cancer prevention. Then after lunch, visit another local hike or swim spot. Dinner.
Sunday: Morning meditation, yoga, coffee or tea, then Brunch (included). Holistic Teeth care workshop. Closing circle. Depart by 1pm.
Note: We encourage you to leave a bit of space at the end, not having to rush off, and ideally leave some time in your schedule Saturday, Sunday night and Monday, to integrate, settle in to the new you, the next stage of your adventure.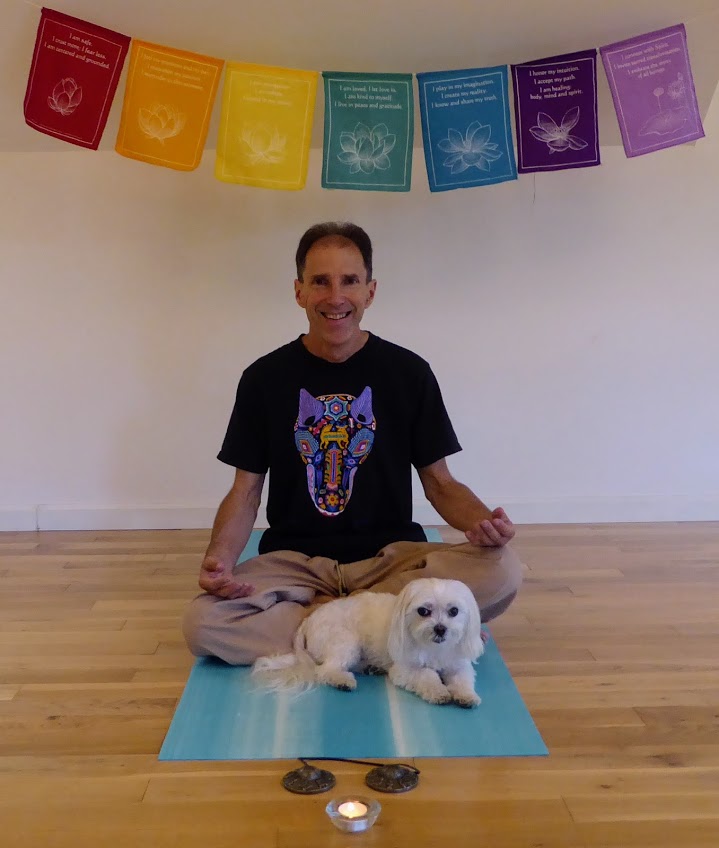 Your guides: Liz Gross and Roy Holman
Your guides will be Liz Gross and Roy Holman. Both have a passion for assisting people in healing and awakening. Liz is an amazing intuitive healer, and uses a variety of techniques, tools, and technologies for healing, and Roy has over 20 years of teaching body movement, meditation and healing.