Meditation Yoga Hike
Mount Rainier – Washington State
September 23, 2023, 8 – 5pm – $45
Roy Holman and Liz Gross
Details: 5 miles round trip, 1,500 feet gain.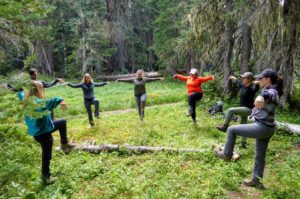 Mountain Meadow Yoga: Join us for this bug-free hiking getaway at this beautiful meadow location on Mount Rainier's Palisades Lakes, just 2 hours from Seattle. This is a beautiful time of year, and the bugs will be asleep! We will invite some silence and walking meditations, do some gentle lakeside yoga in a gorgeous meadow, eat lunch in the forest, and get some nice fresh air.
Forest Bathing: We will play with the idea of "Forest Bathing", This healing art in Japan is called Shinrin-yoku Forest Therapy, the medicine of simply being in the forest. Shinrin-yoku is a term that means "taking in the forest atmosphere" or "forest bathing." It was developed in Japan during the 1980s and has become a cornerstone of preventive health care and healing in Japanese medicine.
Trail: This trail is in great shape, but does have some ups and downs, so you must be in decent shape.
What to Bring: Small backpack, a lunch, layers of clothes (can get cool this time of year), towel or pad to sit on.
Wildlife Bonus: Last time (2022) we saw elk, bear, mountain goats, marmots and more!
How to Get there: We will discuss car pooling.
Itinerary:
8am: Meet in Seattle, or …. meet 9am in Enumclaw. It is over an hour from there to the parking lot and trailhead on the Sunrise side of Rainier.
10am: Begin hike, yoga and lunch in meadow around noon or 1, then head back
3-4pm: Arrive back at cars, head home