Meditation Yoga Hike
Walt Bailey Meadows – Washington State
June 11, 2022, 9 – 4pm – $45
Roy Holman and Liz Gross
Details: 4 miles round trip, 500 feet gain.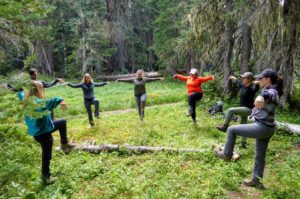 Meadow Yoga: Join us for a bug-free hiking getaway at this beautiful meadow location on the Mountain Loop Highway, just 1.5 hours from Seattle. This is a beautiful time of year, and the bugs will still be asleep! We will invite some silence and walking meditations, do some gentle yoga in a gorgeous meadow, eat lunch in the forest, and get some nice fresh air.
Forest Bathing: We will play with the idea of "Forest Bathing", This healing art in Japan is called Shinrin-yoku Forest Therapy, the medicine of simply being in the forest. Shinrin-yoku is a term that means "taking in the forest atmosphere" or "forest bathing." It was developed in Japan during the 1980s and has become a cornerstone of preventive health care and healing in Japanese medicine.
Trail and Road conditions: This hike is not particularly long (4 miles round trip, 500 foot elevation gain), but there are two challenges. One, the trail is rough at times, with roots and rocks, so this will be part of our yoga balance practice! Secondly, we will drive about 10 miles on gravel road, but the road is in good condition, not many potholes. And the good news is that this hike gets very few people on it, unlike the hordes at Lake 22 and other easier access hikes.
What to Bring: Small backpack, a lunch, layers of clothes, towel or mat to sit on. Well behaved dogs welcome (although ours misbehaves a bit!).
How to Get there: We will discuss car pooling.
Itinerary:
9:00am: Meet at our home in Everett for a cup of tea or coffee and short meditation. Or, you can meet us at the Verlot Ranger Station at 10:00
9:30: Drive, heading east on Mt Loop Highway.
11:00am: Arrive at trailhead, begin hike, under 2 miles to beautiful meadow
12:00: Meadow Yoga
1:00: Lunch, then Silent Meditation walk around meadow
2:00: Hiking meditation back towards trailhead
3:00: Arrive back at cars, head home