Meditation Yoga Hike
Mount Rainier, Grand Park – Washington State
July 24, 2021, 8 – 6pm – $45
Roy Holman and Liz Gross
Details: About 6 miles round trip, 1,000 feet gain. Amazing views!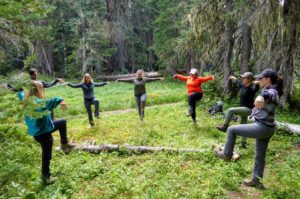 Mountain Views: Join us for a summer getaway at this beautiful Grand Park  location in Rainier National Park, just two hours from Seattle.This is an amazing hike, past meadows and lakes and into a beautiful alpine meadow with views of Mt Rainier. We will invite some silence and walking meditations, do some gentle standing yoga poses, eat lunch in the forest, and get some nice fresh air.
Forest Bathing: We will play with the idea of "Forest Bathing", This healing art in Japan is called Shinrin-yoku Forest Therapy, the medicine of simply being in the forest. Shinrin-yoku is a term that means "taking in the forest atmosphere" or "forest bathing." It was developed in Japan during the 1980s and has become a cornerstone of preventive health care and healing in Japanese medicine.
What to Bring: Small backpack, a lunch, layers of clothes, rain gear just in case. Swimsuit if you want to jump into a cold lake!
How to Get there: We will discuss car pooling.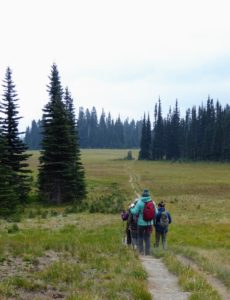 Itinerary:
9:00am: Meet at Safeway in Enumclaw, car pool to trailhead (unless some of us want to carpool at 8am closer to Seattle)
10:00am: Intros, short meditation, begin hike
11:00: Silent Meditation hike from Lake Ellenor
12:00: Forest Meadow Yoga
1:00: Continue hike up into upper Grand Park Meadow for lunch, views
2:00: Meditation walk, with Yoga Forest Balance Beam
3:00: Possible swim at Lake Ellenor (weather permitting)
4:00: Arrive back at cars for final meditation, closing, departure (maybe stop for ice cream at Wapiti Woolies, yum!:)