Harmony Hill Retreat
Springtime in the Pacific Northwest:
Coming back to Life!
 April 15-17, 2022
PLEASE NOTE (please see COVID policy details below): We will do our best to stay safe, but with all the polarity and division, we will NOT be adding to it by discriminating between masked or unmasked, vaxed or unvaxed, etc. We trust one another to take care of one's self and the group. All welcome!
Price includes:
♥  Two teachers to support you for your retreat
♥  Shared room
♥  3 healthy, organic, vegetarian delicious meals a day
♥  Yoga and Meditation classes
♥  Guided Silent Meditation Walk
♥  Regular check-ins, meditations, and discussion groups
♥  Time to relax, rejuvenate, read ….
Room Options:
$575: Shared room (double occupancy), shared bath
$595: Shared room (double occupancy), private bath
$695: Private room, shared bath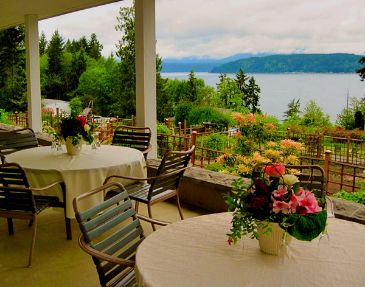 "You took good care of everyone – exceptionally!"
Why a Retreat at this Time?
While things are still tense and unsettled in our country and world, Liz and I are optimistic that some profound changes are just ahead, and the astrology backs that up!
We hope you can come join us on retreat. We greatly miss the powerful energies when community comes together to stretch, breathe, eat, connect, share, grieve and celebrate!
Theme: We will have a theme of "coming back to Life", balancing us out after a tough couple years, reclaiming our optimism, playfulness, joy, and community.
Why Harmony Hill?
Harmony Hill Retreat Center is located near Union, Washington, in the Hood Canal area. Harmony Hill began with Gretchen Schodde's dream to create a retreat center where people could experience renewal and deep well-being. In 1986, Harmony Hill opened its doors as a nonprofit retreat facility focusing on wellness. In 1994, they added our Cancer Program, the heart of their mission, to support those affected by cancer, including caregivers and health professionals. In 2004, they began offering our cancer-related programs at no charge. In 2020 Harmony Hill decided to make a fundamental shift to increase our commitment to inspire healthy living for all, recognizing that many of the programs and resources developed over the decades to support those on a cancer journey could equally benefit those who had other health and well-being concerns.
Harmony Hill has a lovely yoga space and will prepare our healthy, vegetarian meals. There are walks and hikes right from the property, and more expansive hikes less than an hour away in Olympic National Park. This will be our first retreat at Harmony Hill!
COVID Policy
All are welcome on our retreats. We do not discriminate for any reason, including vaccinated or unvaccinated, masked or unmasked, for the following reasons:
Yoga is about unity and oneness, not divisiveness and polarity.
We trust you to take care of yourself, and to decide first, if this trip is for you, and second, how to take care of yourself. We will do our part to keep everyone safe and honor all your needs, but ultimately, we feel your health is up to you.
Our body knows how to handle a virus, and has done so for millennia. We trust our body's innate wisdom to heal. There are outstanding protocols from Dr. Mercola, Dr. Zelenko and many others (Vitamin D, Vitamin C, Zinc, Quercetin, sunshine, clearing fear, etc.) to keep us safe.
Science is now showing unquestionably that the vaccine—which is actually not a vaccine, but an experimental mRNA injection—is neither safe, effective or necessary. It does not prevent either infection or transmission.
Masks, unless professionally and personally form-fitted with an N95 or N100, do not work for viruses. There is no science that shows that the masks that most of us use work for a virus. Yoga is about life and breath. Masks reduce the amount of oxygen to harmful levels, and increase the amount of carbon dioxide, also to harmful levels.
Mask and vaccine mandates are unconstitutional, illegal, unnecessary and demonstrably harmful.
At last count (September 1, 2021) according to VAERS and the CDC, there have been over 590,000 adverse reactions to the vaccine, and 13,000 deaths in the U.S. This is not being reported in the mainstream news, but you can look it up for yourself. Furthermore, studies show that only 1 to 10% of actual adverse reactions and deaths get reported to VAERS (Vaccine Adverse Experience Reporting System).
Europe numbers are 21,00 dead from COVID vaccine (over 2 million adverse reactions) and Brazil's numbers are 32,000 dead (through August 2021).
We choose truth, freedom, sovereignty and responsibility over fear, tyranny, disinformation and disempowerment. By "following orders" and "playing it safe" (wearing masks and getting vaccinated), we may in fact be "playing it very dangerous", as the harmful effects of both masks and vaccines becomes ever more apparent.
Finally, please know that we have done extensive research. Truth matters.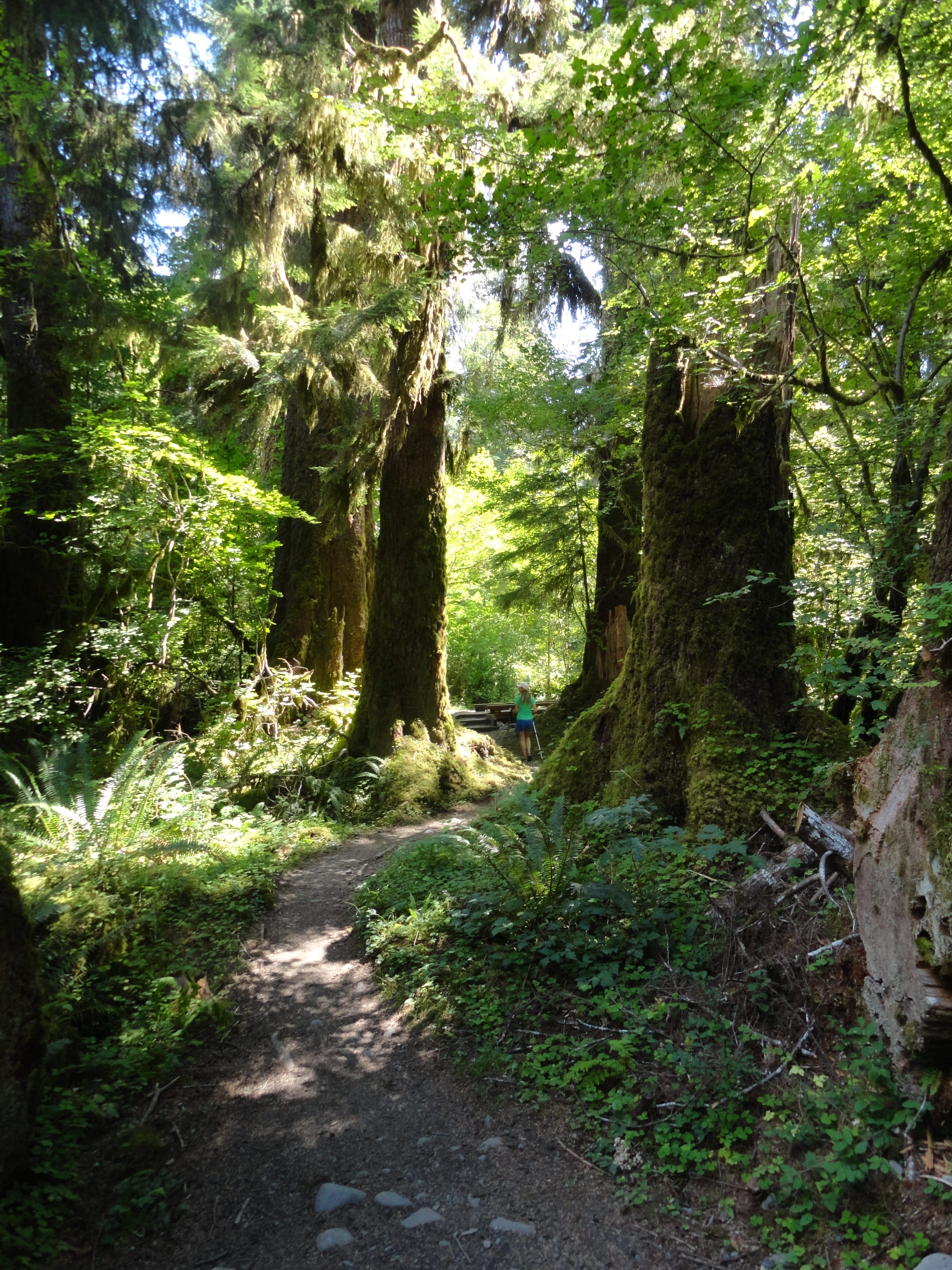 Whether you are a beginner or expert at yoga, meditation or hiking, you are welcome here. We teach to all levels, so experienced yogis and hikers will hopefully get what you need, but also those who are new to yoga, or cannot hike fast or far, will have a positive experience. Sometimes we split the hike into two groups, a stronger hike group and a more meditative group. 
What about COVID?
Ahh, yes, we need to have the 'COVID talk". Hopefully by April COVID will be a distant memory, but for now there are still protocol and mandates. We respect everyone's opinion and your right and freedom to choose, and we seek finding a balance of taking care of those with concerns or compromised immune systems. And also we want to honor the Harmony Hill official protocol. We admit this is a moving target.
Your guides will be Liz Gross and Roy Holman
Roy and Liz are passionate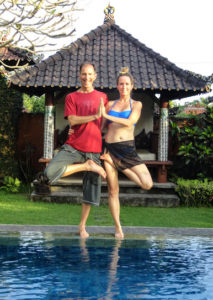 about healing and transformation. Roy has been teaching yoga and meditation for over 20 years, and has led hikes in the Pacific Northwest for many years. Liz Gross also teaches yoga and meditation and is a gifted energy healer. Roy has been leading retreats here in WA state and all around the world for nearly 20 years, and Liz joined him in 2014.
Picture is of Liz and Roy showing off by the pool on Bali, Indonesia on our last retreat there, one of our favorite places on Earth. But to be honest, wherever we are is a beautiful place to be!

"If human beings become conscious, the need for domination and conflict will dissolve."
What does trip look like? What are the details?
Note: We are happy to help you find carpool friends to save gas and ferry costs (if you take a ferry)
Friday afternoon: You drive and perhaps take a ferry (depending on your route), arrive any time after 3pm. Yoga at 5:30, dinner at 7. Then community circle to meet and greet and meditate before bed.
Saturday: Morning coffee or tea, then yoga, followed by bountiful breakfast. Optional meditation walk and Earth Ceremony. Afternoon yoga, dinner, kirtan or relax (or both!)
Sunday: Coffee or tea, followed by yoga, then breakfast.  Next is short healing playshop, then lunch and closing circle. We will finish by 2pm or so.
Note: We encourage you to leave a bit of space at the end, not having to rush off, and ideally leave some time in your schedule Sunday night and Monday, to integrate, settle in to the new you, the next stage of your adventure.
Pay in Full $550:
Pay a Deposit $100: